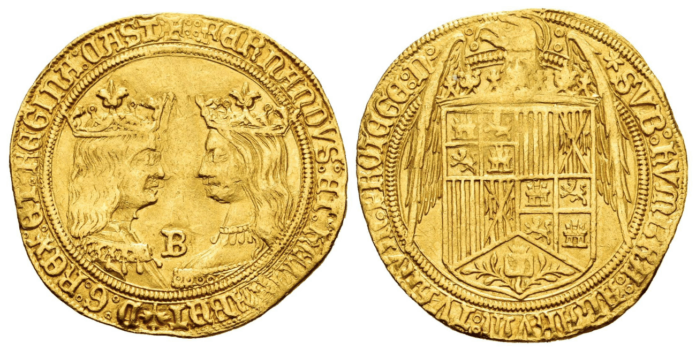 [bsa_pro_ad_space id=4]
Tauler & Fau's E-Auction 67 Features "Gran Capitán" Collection
Tauler & Fau's E-Auction 67 – "Gran Capitán" Collection features 340 lots and closes online on Tuesday, 27 October 2020, beginning at 04:00 p.m. (CEST). This sale features an interesting collection with some rarities from the period of Catholic Kings, Charles and Joanna (1474-1555) for example, two specimens of Double excelente of Burgos Mint, a 4 reales of Charles and Joanna's "Early Series" of Mexico mint or a really good selection of Escudos of those monarchs. You will find several specimens of 1 real, 2 reales, 4 reales and 8 reales of different mintmarks and grades.
For some coins of this auction, Tauler & Fau created video clips that show the coins from different angles. See here how you can find the videos in the online catalogue.
Some highlights from this Auction:
Lot 285: Catholic Kings. Double excelente. Burgos. Of the highest rarity. Ex Caballero de las Yndias Collection. Almost extremely fine. Starting Price: 5,000 EUR.
Lot 311: Charles-Joanna. 4 reales. México. Very rare. Corrosion from salt water immersion cleaned. Very fine. Starting Price: 600 EUR.
Lot 339: Charles-Joanna. 1 escudo. Sevilla. Round flan. Slabbed by NGC as AU 58. Starting Price: 600 EUR.
Lot 280: Catholic Kings. 8 reales. Sevilla. Rare. Weak strike. Round flan. Almost extremely fine. Starting Price: 700 EUR.
To view the lots of this auction, visit Tauler&Fau website.