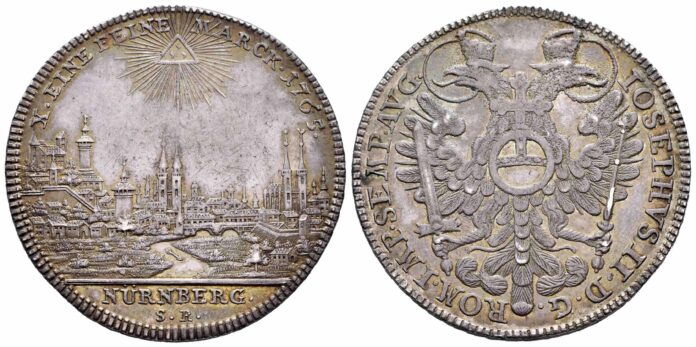 [bsa_pro_ad_space id=4]
Tauler & Fau's E-Auction 66 "World Coins"
Tauler & Fau's E-Auction 66 – World Coins Vol. VI features 402 lots and closes on Tuesday, 13 October 2020, beginning at 04:00 p.m. (CEST). This sale features an interesting selection of World Coins: U.S. Coins, Germany, Austria, France, Great Britain, Haiti, India, Italy, Mexico, Low Countries, Peru, Russia, Switzerland, Medals, Large Lots and much more.
For some coins of this auction, Tauler & Fau created video clips that show the coins from different angles. See here how you can find the videos in the online catalogue.
Some highlights from this Auction:
Lot 2027: Austria. 1 Thaler, 1663, Salzburg. Extremely fine. Starting Price: 200 EUR.
Lot 2007: Germany. Nürnberg. 1 Thaler, 1765. Beautiful patina with some original luster. Almost Extremely fine. Starting Price: 350 EUR.
Lot 2018: Germany. Saxony. Christian II, Johann Georg y August. 1 Thaler, 1593. HB. Attractive. Scarce in this condition. Almost uncirculated. Starting Price: 350 EUR.
Lot 2014: Germany. Regensburg. Francis I. 1 Thaler, 1754. ICB. A wonderful 18th century Thaler, which shows impressive clarity in the portrait of Francis, as well as the reverse side of the impeccably engraved view of the city. Slabbed by PCGS as AU 55. Starting Price: 375 EUR.
To view the lots of this auction, visit Tauler&Fau website.