[bsa_pro_ad_space id=4]
Hans Peter "Mani" Matter (*4 August 1936 in Herzogenbuchsee; †24 November 1972 in Kilchberg ZH) was a Swiss singer-songwriter and lawyer. Inspired by Georges Brassens, he began writing, composing and interpreting Bernese dialect chansons at the age of 13. Even now, fifty years after his accidental death, the popularity of Mani Matter and his songs remains undimmed.
The obverse of the CHF 20 Mani Matter silver coin shows part of Mani Matter's face with his distinctive moustache on the right of the coin. He is looking directly at the viewer. The left shows his full name on two lines, followed by his year of birth and death, separated by a vertical line. The outline of half of a guitar forms a border around the writing. The new special coin was designed by Swissmint engraver Remo Mascherini.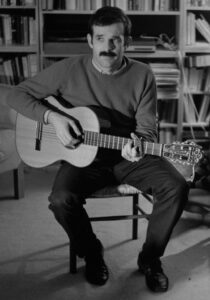 Dr Alpeflug
A bird and a mask, both drawings by Mani Matter, are depicted in the middle of the reverse. A line of the sheet music for the Bernese dialect song Dr Alpeflug flows from the mask's open mouth. The corresponding excerpt of the lyrics is shown below it. Read clockwise, the border features the words CONFOEDERATIO HELVETICA, the year of minting 2022, the mint mark "B", the value 20 FR, and the fineness of 0.9999 offset slightly inwards. The Mani Matter commemorative coin is the first to be newly made of 0.9999 fine silver instead of the alloy of 0.835.
The coin is being issued as proof quality in a mintage of 3,300 coins, of which 250 will be accompanied by a numbered certificate from the artist. Another 11,000 coins will be issued in uncirculated quality. This coin is part of the silver subscription.
Starting with this coin, Federal Mint Swissmint will market all new special coins under the "Swiss special coins" brand. You can read here what else Swissmint will be doing differently from November 2022.
The new special coin from Swissmint will be available from 24 November 2022 in a limited edition at Swissmint Shop and from individual coin dealers and banks.
All coins of the Swiss Federation can be found in our Cosmos of Collectibles database.
If you don't wish to miss any new issue, subscribe to the bi-weekly Cosmos of Collectibiles newsletter.
Here you can listen to Dr Alpeflug on YouTube: