[bsa_pro_ad_space id=4]
Four Successful Days: SINCONA Spring Auctions
Four intensive days, that's how the spring auction sales by SINCONA AG in Zurich could be described. We are confident that everyone was happy in the end – bidders, the auction house and all other companies that were somehow involved in the event. For it should be kept in mind that there is much more to an auction than those four days: a preparation period of several months precedes the event, there is the organisation work regarding the actual sale and, thereafter, billing, shipping and the requirements of individual customers need to be tended to with great care. And this isn't just the case at the SINCONA auction house. All employees of every auction house out there will read these lines nodding their agreement, appreciating the fact that this is brought to mind.
But now let's quickly move on to the review of the different catalogues and auction sales: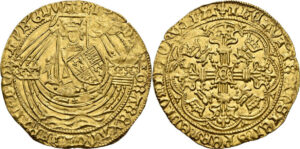 Auction 75: SINCONA British Collection – Part 2
It was to be expected that the second part of the SINCONA British Collection would make our numismatic hearts beat faster once again – especially considering the outstanding success of the sale of the first part last November. The bidders were so fascinated by the medieval issues that many pieces experienced a tenfold increase in price compared to their estimates.
But modern, machine-produced issues also inspired bidders to participate in an active bidding war, as the following two examples show.
Auction 76: The Annemarie and Gerd Köhlmoos Collection
Another special catalogue presented the collection that was built with much love by Annemarie and Gerd Köhlmoos, passionate collectors who paid special attention to rarity, patina, and outstanding quality. So many highlights at once! Especially countries in Northern Europe seem to be particularly popular at the moment. Let's look at a few examples: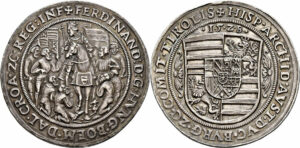 Another highlight that bears testimony to the beauty of many pieces from this collection is a representative taler from 1528 by the Austrian Emperor Ferdinand I (1521-1564), commemorating him participating in the Tyrolean diet and the hereditary homage paid to him. It illustrates how many details could be depicted on a die of such small size by talented engravers like Ulrich Ursentaler the Elder.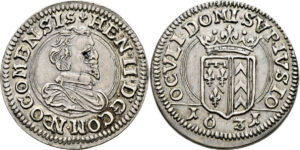 The fact that Swiss coins, too, were an essential part of the Köhlmoos couple's wish list is evidenced by several lots, we present one of the most important examples here:
Auction 77: World Coins and Medals –Bullion Auction – Swiss Coins and Medals
The third SINCONA catalogue contains about 2400 lots and covered these main chapters: world issues from the Middle Ages to this day, the bullion auction and Swiss coins and medals. Particularly noteworthy is the series of 138 gold coins from India, but there were also small collections that were met with interest among the buyers. One of them contained colonial issues from Ceylon, which was first under Portuguese, then under Dutch and eventually under British rule and was accordingly supplied with coins of various types.
After a beautiful series of Italian issues, particularly the issues of the Holy Roman Empire / Austria were popular among buyers.
Swiss coins are prominently featured in SINCONA's auction sales anyway, this time they occupied 250 pages of the catalogue, representing 1150 lots. Coins and medals were offered from 10-fold Bern ducats to the 1813 angster of Schwyz, from large Basel gold medals to Glarus shooting jetons. The special collection Glarus was extremely interesting too. 244 of the 266 lots were sold, including – obviously – the rare 17th-century schillings.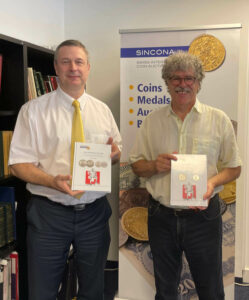 "Fünfliber" Vernissage
At noon on the last auction day, Thursday May 19, the SINCONA team had a special treat in store. The most popular Swiss coin, the 5-franc piece with the shepherd's head, celebrates its 100th birthday this year. And on this occasion, the Zurich auction house published a new book. The sale of Swiss coinage was a perfect occasion for the vernissage.
SINCONA was able to recruit the expert Hanspeter Koch as an author. He is a long-standing expert working for "Swissmint" in Bern. He describes the history of the coin from its origins to this day, taking all kinds of historical perspectives into account. He also researched the life of the sculptor Paul Burkhard, who set himself a monument with this coin that can be encountered in any Swiss wallet.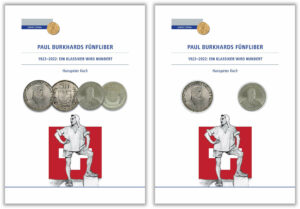 Two versions of this book were published: a "normal" volume and a work whose cover contains the two original coins – a "Fünfliber" of 1922 and one of 2022 – of course, the latter is a limited edition.
Ursula Kampmann presented this book in a review.
After these four exciting auction days, statistics show that all three catalogues exceeded the total estimate of CHF 7.6 million by a considerable amount. All in all, SINCONA achieved a total hammer price of more than CHF 17.4 million.
The next auction sales in October are already being prepared, and we look forward to new rarities and exceptional coins, medals, banknotes as well as other numismatic objects.
All results of auctions 75 to 77 can be found in the online catalogue.
You can find more information about the auction house on the SINCONA website.