[bsa_pro_ad_space id=4]
Steve Album's Internet Auction 20
Stephen Album Rare Coins will hold its Internet Auction 20 at its offices in Santa Rosa, California on April 10-11, 2023. Internet pre-bidding has already begun and can be accessed through the auction house's website. The Auction is made up of 1,800 lots of coins from all categories and time periods. Every lot in this sale is graded by a third-party grading company (i.e. PCGS, NGC, ANACS).
The starting prices for items in the sale range from $20 USD up to $2000 USD. The largest offerings are from the category of "World Coins – Europe" with more than 750 lots in that section. More than 400 of the lots in the sale are from the Joe Sedillot Collection of World Coins, a collection that has featured prominently in recent SARC auctions and has set many record prices. Some highlights of the sale follow:
Lot 119: Bombay Presidency: AE 2 pice, 1791, KM-196, East India Company issue, proof struck at Matthew Boulton's Soho Mint, Birmingham, PCGS graded Proof 63 BN. Estimated at $250 to $300.
Lot 355: China: Republic, AR 20 cents, year 15 (1926), Y-335, L&M-82, dragon and peacock coat of arms, PCGS graded AU53. Estimated at $300 to $500.
Lot 743: Philippines: AR 50 centavos, 1904, KM-167, beautiful light toning, mintage of only 1,355 pieces, a lovely example! NGC graded Proof 66. Estimated at $1,300 to $1,700.
Lot 769: Saudi: Hejaz: al-Husain b. 'Ali, 1916-1924, AV dinar hashimi, Makka al-Mukarrama (Mecca), AH1334 year 8, KM- 31, a lovely lustrous mint state example! NGC graded MS63. Estimated at $2,200 – $2,600.
Lot 877: Belgium: Ghent: German Occupation, 1915-1918, 1 franc, 1915, KM-Tn3, WWI coinage struck in gilt copper, a wonderful lustrous example and rare so nice! PCGS graded MS64, ex Joe Sedillot Collection. Estimated at $400 to $600.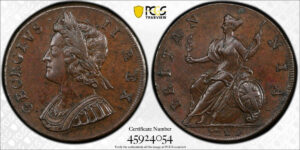 Lot 1227: Great Britain: George II, 1727-1760, AE halfpenny, 1729, KM-566, S-3717, a lovely chocolate brown lustrous example! PCGS graded MS63 BN. Estimated at $500 to $600.
Lot 1327: Great Britain: AR medal, 1974, 51mm, The Chinese Exhibition, Royal Academy, London, a silver medal commemorating the Chinese Historical Relic Exhibition held in the Royal Academy of London in 1973-74, issued by Toye, Kenning & Spencer Ltd., in association with the Times and the Sunday Times; The "Flying Horse of Gansu" and Chinese legend // Chinese Exhibition 1973-1974 below building and English legend, "At The Royal Academy London – Sponsored By The Times & The Sunday Times" around, mintage of 2,000 pieces, an incredible quality example! PCGS graded MS67. Estimated at $200 to $300.
View all lots of the sale in the online auction catalog.
For further information, visit Steve Album's website.