[bsa_pro_ad_space id=4]
Stephen Album Auction 45 Total Reaches Almost 3 Million Dollars
Strong bidding was seen at Stephen Album Rare Coins' Auction 45, which was held January 26-29, 2023 at their new offices in Santa Rosa, CA. The total price realized was $2,946,510 (including buyer's fees) on a low/high estimate range of $1.5 to $1.95 million. The sell through rate was 94.7%. Sales were buoyed by the Joe Sedillot Collection of World Coins (Part IV), the K. K. Lee Colletion of Chinese Coins, the Dr. Dirk Löer Collection of Chinese Coins, and the David Cashin Collection of Northeast Indian Coins. A few highlights from the auction follow (prices include buyer's fees):
Lot 194: Islamic: Umayyad: al-Walid I (705-715). AR dirham (2.35g), 'Uman (Oman), AH90, A-128, Klat-500, Umayyad dirhams dated AH81 and 90 are the earliest Islamic coins struck in Oman, attractive VF, RRR. Sold for $282,000.
Lot 358: Islamic: Taifas After The Almoravids: Anonymous (1167). AV dinar (4.06g), Makka, AH563, A-4201M, in the style of the Almoravid dinars, citing abd Allah amir al-mu'minin on the obverse and the kalima followed by sall Allah 'alayhi wa salam / al-amr kulluhu lillah on the reverse, bold mint & date, with the entire design carefullly engraved; slightly crinkled; unique and of the greatest historic importance, VF to EF, RRRR. Sold for $36,000.
Lot 940: India: Jubbal: Raja Rana Sir Bhagat Chand Bahadur (1910-1947). AV mohur, VS1988 (1931), Bruce-X2, F-1238, State coat-of-arms with lion supporters within linear circle; in outer margin, jubal rajya (Jubbal State) in Nagari above, date below; floral symbols flanking date // sri (Lord) within linear hexagram; all within linear circular border; sri sri sri ramacandri jayati (venerable Lord Sri Ramachandra is victorious) in Nagari, an attractive mint state example of this very rare type! PCGS graded MS61, RR. Sold for $18,000.
Lot 1212: China: Manchukuo: Japanese Occupation (1932-1945). AV tael, ND (1932), KM-1.2, L&M-1067, K-1595; KMX-1.2, Chinese fu ("blessing") // 24 K above and 1000 below (to indicate fineness), PCGS graded AU55, R. According to Kann, "Seemingly these Manchurian gold taels were not in general circulation, but most of them were held by the Bank of Manchukuo, a Japanese-controlled institution figuring as the official government bank in Manchuria." Sold for $48,000.
Lot 1148: China: Qing: Qian Long (1736-1795). AE charm (134.18g), CCH-II/589, 71mm, qian long tong bao // dragon and phoenix on either side of flaming pearl, VF to EF, RRRR. Extremely rare large charm with exquisite calligraphic style and quality of casting. Another example is in the collection of Tang Zhiqi as per the Sequel of Classic Chinese Charms book. This is the first example of this type we have encountered (previously appearing in our Auction 24, Lot 1016 in 2016). Sold for $15,000.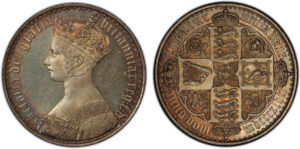 Lot 1496: World: Great Britain: Victoria (1837-1901). AR crown, 1847, KM-744, S-3883, Esc-2571, "Gothic" type, "UNDECIMO" on edge variety, a wonderful proof quality example with light attractive toning! PCGS graded Proof 64, ex Joe Sedillot Collection. Sold for $30,000.
Lot 1663: World: Peru: Felipe V (1700-1746). AV 8 escudos cob (26.95g), 1711, KM-38.2, Calico-2119, assayer M, from the 1715 Plate Fleet wrecks, with custom folder, PCGS graded AU58. Sold for $18,000.
Company founder Steve Album commented "Quality material is bringing high prices in all areas. We are finally seeing a strong resurgence of the Islamic market, to go along with the rest of the world market." The firm is now taking consignments for its Auction 46 that is scheduled to be held on May 18-21, 2023.
All results can be viewed in the auction catalog.
For more information, visit Steve Album's website.