[bsa_pro_ad_space id=4]
Stephen Album's Internet Auction 9
Stephen Album Rare Coins will hold its Internet Auction 9 on 12th April 2021. The firm has plans to conduct monthly internet auctions each of the 9 months of the year when its larger floor auctions are not being held. The larger sales are routinely held in January, May and September.
Pre-sale bidding has already begun and will continue through 12th April. At that point it will be possible to bid live online to compete with others bidders for the offerings. The auction is made up of exactly 600 lots of Ancient, Islamic, Chinese, General World, and Indian Coins, with starting prices from $25 to $1,600.
Various selections from the sale from across the price spectrum follow: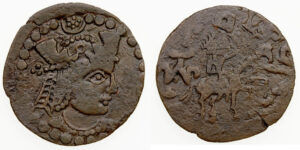 Lot 15: Ancient. Choresmia, Kanik. AE unit, early 8th century. (5.82g). bust right, wearing diademed crown topped with crescent and necklace / horseman right, holding whip, tamgha behind, legends around. Fantastic bold portrait, choice very fine-extremely fine. Ex Ralph A Cannito Collection. Starting bid: $90.
Lot 24: Islamic. Abbasid, al-Mustazhir. AV dinar, 1094-1118. (3.49g), Madinat al-Salam, AH491. a lovely lustrous mint state example! NGC graded MS63, RR. Starting bid: $1,600.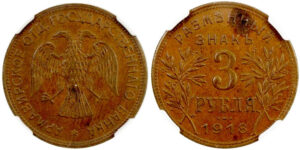 Lot 445: World. Russia, Armavir. AE 3 roubles, 1918. Variety with monogram below tail, well struck, one-year type. NGC graded MS62 BN. Starting bid: $700.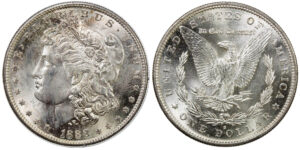 Lot 499: World. United States. AR dollar, 1888-S. PCGS graded MS63, old "rattler" PCGS holder, light obverse toning. Starting bid: $300.
Lot 530: China. Kiangnan, Kuang Hsu (1875-1908). AR 20 cents, CD1901. Almost uncirculated. Starting bid: $40.
Lot 543: China. Hong Kong, Edward VII (1901-1910). AR 50 cents, 1905. A pleasing mint state example. PCGS graded MS62. Starting bid: $200.
All lots can be viewed on the Steve Album website.
Following this internet sale the firm will hold its Auction 40 on 13th-15th May 2021 in Santa Rosa. The catalog can be found on their website. Subsequent internet auctions will be held in mid-June, mid-July and mid-August. The firm is also now taking consignments until 1st July 2021 for its Auction 41 which will be held in September. More information can be found on their website.