[bsa_pro_ad_space id=4]
Collection of Rare Annamese Medals Highlights Stephen Album Auction
Stephen Album Rare Coins will hold its Auction 39 on 21st to 25th January 2021 at its offices in Santa Rosa, California. The auction is made up of an even 4,500 lots of Ancient, Islamic, Chinese, General World, and Indian Coins as well as Numismatic Literature.
Featured in this sale is The John Sylvester Jr. Collection of Annamese Medals and Orders, highlighted by several pieces never-before seen at auction. A quick overview of the Collection will show that it is unrivaled in its specialty and promises to be the premier auction to date of Annamese Orders and Medals. The catalog should be a reference for this material for years to come.
One of the premier experts and authors on Southeast Asian phaleristics, John Sylvester Jr. (1930), inherited a love for Asian antiques from his father, a decorated vice admiral who was stationed in China in the late 1930's. After seeing combat near the end of the Korean War, he entered the Foreign Service in 1955 and began a ten-year tenure in Japan, where he met his future wife, Mayumi. A seasoned diplomat, he was assigned in 1968 to South Vietnam and tasked with advising various provinces along the Cambodian border. It was in that volatile milieu that John developed an interest in medals, which eventually became an addiction. After retirement, he became the first director of the NC Japan Center in 1981 and amassed in a single room in his home in Raleigh a panoply of military paraphernalia, including hats, aiguillettes, flags, bayonets, flare guns, and one of the finest collections of Indochinese medals and orders in the world.
Some highlights from the sale follow: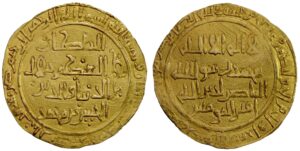 Lot 558: Islamic: Assassins at Alamut (Batinid): al-Hasan III, 1210-1221, AV dinar, Kursi al- Daylam, AH608. Both the obverse and reverse calligraphic style is similar to contemporary Ghorid and Khwarizmshah gold coinage. The obverse has the royal titles, al-sultan / al- mu'azzam jalal / al-dunya wa'l-din / al-hasan bin muhammad, with the mint/date formula in the margin. The reverse is traditionally Sunni, la ilah illa Allah / muhammad rasul Allah / al-nasir li-din Allah / amir al-mu'minin, with bism Allah al-rahman al-rahim followed by part of the Qur'an verse 9:33 in the margin. This example is exquisitely struck and is likely the finest known Batinid coin of any of the six rulers who issued coins. Extremely fine and of great rarity. Estimate: $18,000-20,000.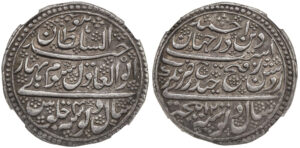 Lot 914: India: Mysore: Tipu Sultan, 1782-1799, AR double rupee, Nagar, AH1200 year 4. Persian legends: huwa al-sultan al-waheed al-adil suyeem bahari sal dalaw sanah 4 julus // ahmad deen dar jahan ast roshan za rateh haidar (letter he) zarb nagar sal dalaw sanah 1200 hijri, extremely rare mint for all silver coinage of Mysore, especially the double rupee. NGC graded AU55, very rare. Estimate: $10,000-12,000.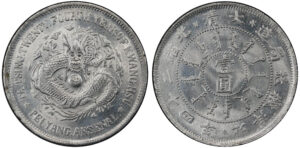 Lot 1182: China: Chihli: Kuang Hsu, 1875-1908, AR dollar, Peiyang Arsenal mint, Tientsin, year 24 (1898). Dragon eyes in relief, a superb quality example with bright white original mint luster, a gorgeous example! PCGS graded MS63+. Estimate: $18,000-22,000.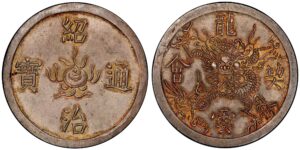 Lot 1466: World: Nguyen Dynasty (Dai Nam): Thieu Tri, 1841-1848, AR 5 tien. A lovely toned high grade mint state example of this large Annamese silver type. PCGS graded MS64, ex Gustaf Melin Collection. Estimate: $12,000-14,000.
Lot 1481. Nguyen Dynasty (Annam): Dong Khanh, 1885-1889, Order of the Dragon of Annam, Barac-92, Werlich-407, Sylvester-3/1/b, 97mm, Grand Officer Breast Star, silver star with faceted surface & 16 multi-tipped rays; at center, a blue enameled oval emblazoned with the imperial seal & encircled by a red band; above, a roaring dragon in teal facing, its claws clutching the oval and its body coiled below // pinback with two retaining hooks, tiny hallmark on pin catch, small cracks & chips in the enamel, EF, R. Estimated at $800 – 1,000.
Lot 1488. Nguyen Dynasty (Annam): Thanh Thai, 1889-1907, AV kim khánh medal (12.57g), Barac-77, cf. Sylvester-1/C/3/B, 66 x 36mm, Order of Kim Khánh Middle Class, made with two pieces of repoussé gold, thanh thai sac tu // thuc than khue mon ("Bestowed by Khanh Thai // Pure, prudent, [observant of] chastity"), framed by floral decoration with curlicues at the top, bottom & corners, attached at top with red cord, a gorgeous local-style example, choice AU, RR. Estimated at $1,500 – 2,000.
Lot 1494. Nguyen Dynasty (Annam): Duy Tan, 1907-1916, AV kim bôi medal (23.88g), Barac-66, S&H p. 70, 2.2.2, 44 x 55mm, Order of Kim Bôi 2nd Class, made with two pieces of repoussé gold, quynh dao vinh hay // duy tan nien tao ("Fine jade is eternally beautiful // Made during the reign of Duy Tan") within center rectangle, flanked by two phoenixes & clouds, radiant sphere above, attached at top with blue woven cord, and at bottom with elaborate knot & four braids of silk tassels, each with a pearl, AU, RR. Estimated at $2,500 – 3,500.
Lot 1495. Nguyen Dynasty (Annam): Khai Dinh, 1916-1925, AR medal (24.00g), Joyaux—, 50mm, hand-engraved khai dinh thong bao around square hole // city wall with three towers, the same characters below, vertical edge milling, AU. Estimated at $400 – 600.
Lot 1504. Nguyen Dynasty (Annam): Bao Dai, 1926-1945, AR 2 tiên medal (8.31g), Barac—, Joyaux-724, 27mm, made from two pieces of metal, bao dai bao giam around thai cuc // nhi nghi ("yin & yang") flanked by two spheres & auspicious clouds, green-yellow-red ribbon attached on Western-style mount engraved with wreath, gorgeous smoky toning with notes of iridescence, EF, RR. Estimated at $500 – 700.
Lot 1508. Nguyen Dynasty (Annam): Bao Dai, 1926-1945, gilt 4 tiên (14.83g), Barac-25, cf. Joyaux-624, 36mm, bao dai thong bao around small pearl with 9 flames, 6-stroke bei, 2-dot thong // phi long ("flying dragon") left, pierced at top & bottom and attached with red-yellow-green ribbon, choice AU, RR. Estimated at $600 – 800.
Lot 1510. Nguyen Dynasty (Annam): Bao Dai, 1926-1945, medallic AR 5 tien (23.18g), cf. KM-XM5, Joyaux-713, 33mm, phi long-type ("flying dragon"), bao dai bao giam around large pearl with 7 flames, 7-stroke bei // dragon rampant left, faint hairlines, attached with red cord & long tassel with 6 pearls, choice AU, R. Estimated at $600 – 800.
Lot 1536. Nguyen Dynasty (Annam): bone bài badge (35.12g), Sylvester-6/D/1, 37 x 92 x 6mm, quang loc tu khanh ("Secretary of the Court of Imperial Entertainments", rank of 3a) etched in red, rectangular border on both sides, ornate butterfly-shaped tassel in red & gold, attached with red cord on badge knob, five braids with three knots each, AU. Estimated at $600 – 700.
Lot 1606. South Vietnam: AV kim khánh medal, ND (1957-1963), Sylvester & Foster-43, 75 x 42mm, 73.78g (including tassels), Order of Kim Khánh 2nd Class, made with solid gold, five stalks of bamboo in center, a scholar's scroll behind stretched across the field, the two ends coiled around an ink brush & a sword, framed by two dragons among clouds, attached at top with pink cord, and at bottom with beautiful coral beads, strung together with gold thread into a kim khánh-shaped pendant and four braids that descend into numerous strings of colorful beads ending in white tassels, in original presentation case with the emblem of the Republic of Vietnam, UNC, RRR. Estimated at $8,000 – 10,000.
Lot 4238: Literature: Kraay, Colin M., Greek Coins, New York, 1966, Harry N. Abrams Publisher, First Edition, 396 pages, hardcover with dust jacket. David Sear, authors of the most widely used reference books on ancient coins, wrote about his book on his website: "Undoubtedly, the ultimate book in this field is the monumental "Greek Coins", with authoritative text by Colin Kraay and superb photographic illustrations (including many enlargements) by the renowned photographer Max Hirmer. Published in 1966, this large format work has been long out of print and is in great demand." Estimate: $300-500.
Here you can browse through the online catalog.
The firm is now taking consignments for its Auction 40, which will be held from 13th to 15th May 2021. More information can be found on the website of Stephen Album Rare Coins.