[bsa_pro_ad_space id=4]
Joe Sedillot Collection Leads Steve Album's Auction 44
Stephen Album Rare Coins held its Auction 44 on September 15-18, 2022, at its offices in Santa Rosa, California. The prices realized continue the trend of the firm's successful 2022 auctions, coming in at a strong $2.2 million (including buyer's fees) with a sell-through rate of 95.2%. Many items sold for well in excess of their estimates, including some world record results. The Joe Sedillot Collection of World Coins, Part III was instrumental in achieving these results. A selection of highlights follows (prices include buyer's fees):
Lot 945: China: Fukien: Tao Kuang, 1820-1850, AR dollar, ND (1844), Kann-5, L&M-290, Changchow Military Ration issue, character tong with open head variety, with single Chinese chopmark as usual for this rare type, NGC graded AU details, RRR. Realized $45,000.
Lot 730: India. Mughal. Jahangir, 1605-1628, AR rupee, Mandu, AH1026 year 12, KM-149.19, "fath-e dekkan" ("victory over the Deccan") commemorative, with the special couplet that translates as "the coin of the victory over the Deccan, struck at Mandu by the Shah of the Land and the Sea // the emperor of the time, Shah Jahangir, son of Shah Akbar"; wonderful example, without any testmarks, bold strike, NGC graded AU55, RRR. Realized $33,600.
Lot 978: China. Kirin. Kuang Hsu, 1875-1908, AR dollar, CD1905, Y-183a.3, L& M-558, an attractive lustrous example! PCGS graded MS61. Realized $33,600.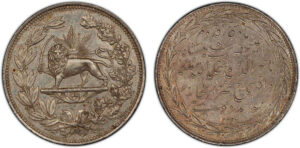 Lot 1090: World. Iran. Nasir al-Din Shah, 1848-1896, AR 5000 dinars, AH1294, Kian-90, Opening of the New Tehran Mint Commemorative, with dies engraved by Franz Pechan (FP), an official from the Vienna mint, PCGS graded SP-58, RRR, ex Durham Collection, #755. Realized $14,400.
Lot 342: India. Fatimid. al-Mansur, 946-953, AV 1/4 dinar, Madinat Nabl, AH342, A-695, Nicol-204, month of al-Muharram; exceedingly rare mint, now called Nabeul in north-eastern Tunisia (ancient Greek city founded in the 5th century BC as Neapolis, "new city"), coastal port closest to Sicily, appealing VF-EF, RRRR. Realized $11,400.

Lot 1705.
Lot 1705: Ethnographic. Micronesia. Yap, rai stone money (12,010g), ca. 1871-1931, Opitz p.316-321, Opitz (2011) p.533 (plate example), 34 x 28.5 x 9cm, made from crystalline calcite (aragonite per Opitz), holed in the center, a very nice example of this famous ethnographic currency, VF, RR, ex Charles Opitz Collection. Realized $9,000.
Lot 1556: World. Essequibo & Demarary. George III (1760-1820). AR 3 guilders, 1809, KM-8, Prid-4, edge grained left, nicely detailed despite the shallow-strike that is standard for this type, much original mint bloom present, PCGS graded MS62, R. Realized $7,200.
Lot 813: India. British India. Victoria, Empress (1876-1901). AR 1/2 rupee, 1889-C, KM-491, S&W-6.202, a superb lustrous example! PCGS graded MS65. Realized $6,600.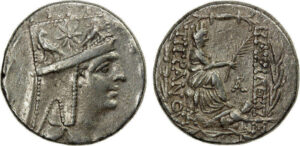 Lot 27: Ancient. Armenia. Tigranes II "the Great", 95-56 BC, AR tetradrachm (15.96g), Antioch on Orontes, Nercessian-34, Kovacs-71.2, diademed and draped bust right, wearing tiara decorated with star between two eagles // Tyche of Antioch seated right on rock, holding palm frond, river-god Orontes swimming right below, smoothing on obverse, nice reverse, VF. Realized $2,640.
Lot 1073: Ethnographic. Brunei. brass cannon money (637g), 19th to early 20th century, Opitz p.100 (plate example), cf. SS-60, 179mm, lovely old example, VF-EF. Realized $1,320.
Company COO Mike Barry noted "Our top three auctions of all time were all held in 2022. When we first started our auctions over a decade ago we were happy if we could achieve a sell through rate of over 80% but now we routinely sell around 95% of the lots in our sales. All indications are that the coin market is healthy."
The firm is preparing for its Literature Auction 1 on October 17, 2022, and a 2,000 lot coin auction (Internet Auction 18) on November 7-8, 2022. They are also taking consignments for their next Premier Auction, number 45, which will take place January 19-22, 2023.
Here you can view all prices realized in Auction 44.
Please visit the Steve Album website for more information.