[bsa_pro_ad_space id=4]
Stephen Album Internet Auction 14
Stephen Album Rare Coins will hold its Internet Auction 14 at its offices in Santa Rosa, California across two days from 7th to 8th March 2022. Internet pre-bidding has begun and can be accessed through their website. The Auction is made up of an even 2,000 lots of coins from all categories. (Ancient, Islamic, India, China, World Coins A to Z). There are high expectations for the sale coming on the heels of the firm's premier Auction 42 which broke many sales records and saw a sell-through rate of over 98%. There are many affordable coins in the sale, and a few notable sections include:
Over 1,000 World Coin lots, including 400+ choice coins from The Joe Sedillot Collection
Over 290 Islamic lots, including many from Chingiz Khan and his successors
Over 240 Indian lots, including 100+ Ancient Indian lots
Over 230 Chinese lots, including 100+ Chinese chopmark lots
Over 100 Ancient lots, including many choice Roman coins
Estimates range from $30 to $800. Sample lots from the sale follow: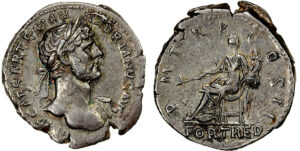 Lot 45: Roman Empire. Hadrian (117-138). Denarius, Rome, 118 AD. Laureate bust right, IMP CAESAR TRAIAN HADRIANVS AVG // Fortuna seated left, holding rudder and cornucopia, P M TR P C OS II, FORT RED in exergue. Bold Very Fine. Estimate: $160-180.
Lot 304: Golden Horde. Toda Mangu (1280-1287). Dirham, Qrim, AH683. Tamgha in central circle, a superb mint state example! NGC graded MS65. Estimate: $300-400.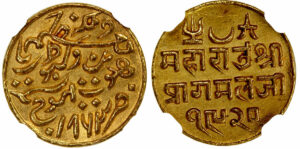 Lot 593: Kutch. Pragmalji II (1860-1875). 25 kori, Bhuj, 1863. Citing Queen Victoria, a lustrous mint state example! NGC graded MS61. Estimate: $350-450.
Lot 981: Bolivia. Carlos III (1759-1788). 8 reales, 1768. Assayer JR. Small cut with a few other obverse marks, variety with 6-petalled rosette below shield. Extremely Fine. Ex Joe Sedillot Collection. Estimate: $150-200.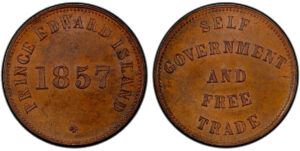 Lot 1062: Prince Edward Island. AE ½ penny token, 1857. Self Government and Free Trade type, large clover – large and variety, medallic die axis strike. PCGS graded MS63 BN. Estimate: $200-300.
All lots of the auction can be viewed in the online catalog.
The firm is now taking consignments for future internet and premier sales. More information can be found on their website.