[bsa_pro_ad_space id=4]
Stephen Album's 11th Internet Auction Exceeds Expectations
Stephen Album Rare Coins held its Internet Auction 11 on 16th August 2021 at its offices in Santa Rosa, CA. The auction vastly exceeded all expectations, with a total hammer price of $120,588 (including buyer's fees) on a middle estimate of $43,500 for 500 lots of PCGS-certified coins, and a sell-through rate of just under 97%. A number of price records were broken (based on auction records of coins in the same certified grade), further attesting to the strength of the currently soaring coin market.
Many items went for multiples of their estimates, including the following (prices include buyer's fees):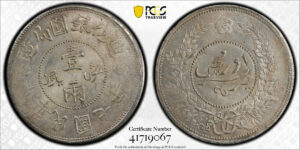 Lot 447: China. Sinkiang. Republic, silver sar (tael), Dihwa (Urumqi), year 7 (1918), Y-45.2, L&M-839, superb bold strike, much original luster, cleaned, PCGS graded UNC details. Estimate: $500-700. Realized: $5,100.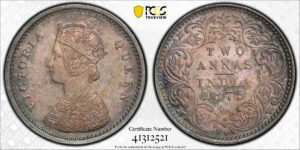 Lot 486: British India. Queen Victoria (1837-1876). Silver 2 annas, 1875(b), KM-469, S&W-5.41, Prid-517, a lovely toned example! PCGS graded MS63. Estimate: $100-150. Realized: $3,900.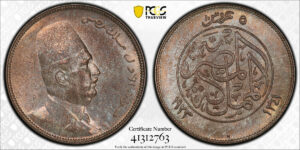 Lot 99: Egypt. King Fuad I (1922-1936). Silver 5 piastres, 1923/AH1341, KM-336, a lovely lightly toned example! PCGS graded MS64. Struck at the Heaton mint, Birmingham. Estimate: $50-75. Realized: $3,120.
Lot 163: Great Britain. Silver trade dollar, 1929-B, KM-T5, Prid-26, a lovely example! PCGS graded MS63. Estimate: $200-300. Realized: $1,020.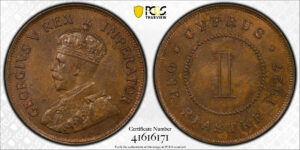 Lot 49: Cyprus: George V (1910-1936). AE piastre, 1927, KM-18, a superb quality example! PCGS graded MS64 BN. Estimate: $75-100. Realized $1,020.
Lot 296: Panama. Republic. silver 1/4 balboa, 1934, KM-11, a wonderful quality example! PCGS graded MS64. Estimated at $50-75. Realized $840.
Company founder Steve Album noted "Some items went for shocking prices. The market is very strong right now. Whether it is a premier auction or an internet auction, the buyers seem to be finding everything and providing strong competition for these items."
In the online catalog you can find all prices realized.
The firm is currently taking consignments for future internet and signature auctions. Visit the Steve Album website for more information.