[bsa_pro_ad_space id=4]
New Record for Stephen Album: Total Price Realized Hits $1.85 Million
Spirited bidding was seen at Stephen Album Rare Coins' Auction 37, which was held June 11-14, 2020 at their offices in Santa Rosa, CA. The strength of the coin market was shown as high prices were seen throughout the sale and 96.5% of the lots in the floor sale were sold. The total price realized was $1.85 million USD (including buyer's fees), a new record for the growing auction house. Pre-sale estimate for the auction was $1.20 million USD.
The most exciting moment came when a Chinese silver "Pavilion" dollar sold for an astounding price of $130,900. This is more than three times higher than previous sales records for a Pavilion dollar (based on auction records available on CoinArchives Pro). The reason for the record breaking price is that this piece was engraved for Dr. Ralph Garfield Mills (1881-1944) of Lincoln, Illinois.
Dr. Mills was Professor of Pathology and Director of Research at Severance Medical College (now Severance Hospital of the Yonsei University Health System), from 1911 until 1918 in Seoul, Korea. According to the Johns Hopkins University circular "Annual Report of the Johns Hopkins University 1913-14" published in Baltimore, Maryland in 1915, Dr. R. G. Mills, "an instructor in Pathology and Surgery resigned to become Professor of Pathology and Surgery in the new Peking Union Medical College in Peking", China in 1918. He was also listed as the Vice-President of the Korea Branch of the Royal Asiatic Society in Seoul in 1916. In 1923 Dr. R. G. Mills, was again head of the department of pathology of the Peking Union Medical College and he wrote about the previous year in which "two of the contending war lords whose forces were clashing near Peking retired from the sanguinary scene of their conflict leaving several hundred wounded soldiers in an old temple. The Peking Union Medical College authorities commandeered all the suitable vehicles that could be found and brought the wounded men into the great city hospital." Dr. Ralph G. Mills and his wife, Ethel, served as missionaries in Korea and China.
A Few Highlights from the Auction Follow (Prices Include Buyer's Fees):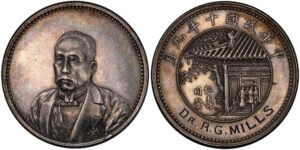 Lot 1448: China: Republic: silver dollar, Tientsin mint, year 10 (1921), Kann-676a, L&M-957, Hsu Shih-chang "Pavilion" type, plain edge without bottom legend variety, hand engraved DR. R. G. MILLS on reverse, PCGS graded AU details, RR. Estimated at $5,000 – 7,000 (Realized $130,900)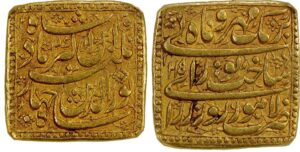 Lot 1066: India: Mughal Empire: Jahangir, 1605-1628, gold square heavy mohur, Lahore, AH1015 year 2, KM-184.1, BMC-293 (1015 year 1) & 294 (1016 year 3), special presentation type from the early part of Jahangir's reign, obverse legend his full name & patronymic shah nur al-din jahangir ebn akbar padshah, and the regnal year "2"; reverse legend ruy-e zar-ra sakht nurani be-rang-e mehr o mah, "he made the face of money to shine with hues of the sun and moon", and the mint formula zarb lahore, NGC graded AU55. Estimated at $14,000 – 16,000 (Realized $26,180)
Lot 1462: China: Chihli: Kuang Hsu, 1875-1908, silver dollar, Peiyang Arsenal mint, Tientsin, year 24 (1898), Y-65.2, L&M-449, dragon eyes in relief, a superb quality example with bright white original mint luster, a superb example! PCGS graded MS63. Estimated at $15,000 – 20,000 (Realized $26,180)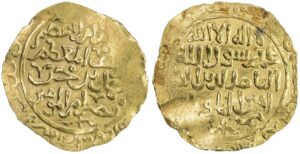 Lot 816: Medieval Islamic: Assassins at Alamut: Muhammad III, 1221-1254, gold dinar (2.56g), MM, AH618, A-D1920, dated in the year of his accession, citing the Abbasid caliph al-Nasir li-din Allah, slightly uneven surfaces, unpublished and almost certainly unique and of great historic importance, VF-EF, RRRR. Estimated at $4,500 – 5,500 (Realized $16,660)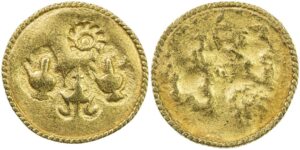 Lot 1757: World: Thailand: Rama IV, 1851-1868, gold stamped fuang, ND (ca. 1856), Cr-170, Krisnadaolarn & Mihailovs, p. 150, plate F07, upper left, stamped with four marks: chakra, mongkut, and phra tao (twice), grained right on the edge (derived from coins of the Indian Presidencies), EF, RRRR. Estimated at $2,000 – 3,000 (Realized $9,520)
Lot 102: Ancients: Sasanian Kingdom: Shahpur (Sabuhr) I, 241-272, gold dinar (7.30g), Ctesiphon, G-21, diademed bust of Shapur right, wearing mural crown with korymbos // fire altar flanked by two attendants, each looking away from the fire and wearing mural crowns, two pellets right of the altar, lustrous and well struck example! ANACS graded MS64. Estimated at $3,500 -4,000 (Realized $5,355)
Lot 3689: Numismatic Literature: Schroeder, Albert, Annam Études Numismatiques, Paris, 1905, original printing, 651 pages, 111 fine phototype plates, in two volumes, one of text and one of plates, contemporary red cloth binding, original paper covers with the text volume hardbound, the standard French-language work on Vietnamese cash, silver, and gold and still the best work on gold and silver coinage, now extremely rare, RR, ex. H. F. Bowker Numismatic Library. Estimated at $300 – 500. (Realized $4,760)
CFO Paul Montz was happy with the results. "We were curious to see how this auction would do, with all the changes the pandemic has forced on the industry. We were pleased to see that the market appears to be stronger than ever. This strength carried throughout the auction in all categories."
The firm is now inviting consignments for its Auction 38 on September 10-12, 2020. For more information visit the Stephen Album website.
Moreover, all results of this auction can for example be found at Numisbids.