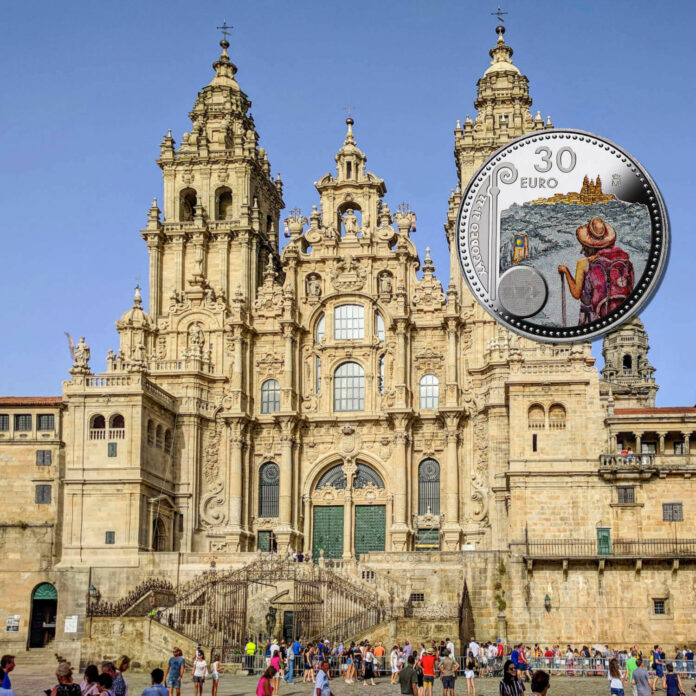 [bsa_pro_ad_space id=4]
El Camino de Santiago (The Ways of St. James) is a network of Christian pilgrimage routes of medieval origin leading to the shrine of the Apostol Saint James the Great in the cathedral of Santiago de Compostela in northwestern Spain, where tradition holds that the remains of the saint are buried. The Holy Year of St. James is a Catholic celebration that takes place in Santiago de Compostela in the years when 25th July, the day of St. James, falls on a Sunday, as it happened 2021 year.
To celebrate this event the Royal Spanish Mint issued a 30 Euro face value silver coin, distributed loose through the financial entities. On the reverse, occupying almost all the coin, there is an allegorical image of the "Camino" with a pilgrim and the Cathedral of Santiago. On the obverse appears H.M. the King of Spain Felipe VI, together with his wife, H.M. the Queen Letizia.
As special security feature, FNMT patented the quadruple latent image. It depends the angle of vision you can see different image. This coin shows the symbol of the Camino de Santiago, the scallop Shell, due to COVID 19 Holy Year of St. James will be exceptionally two years, 2021 and 2022, FNMT Mintmark and an arrow, symbol that appears in all milestone showing the way to follow to reach Santiago de Compostela.
Apart from being distributed loose for its face value through the branches of most financial entities in Spain, the coin is also available in a special numbered blister pack with a limitation of 5,000 pieces.
You can learn more about latent images on coins and the leading role of the Royal Spanish Mint in developing this feature in this article on latent images on coins at Cosmos of Collectibles.
This article explains latent images and other state of the art minting technology.
More issues of Spain can be found in our online archive Cosmos of Collectibles.
If you do not want to miss out on any new issues, subscribe to the Cosmos of Collectibles newsletter, which is published every two weeks.
On her trip to northern Spain in 2012, Ursula Kampmann also visited Santiago.
This is the official website of the Royal Spanish Mint.