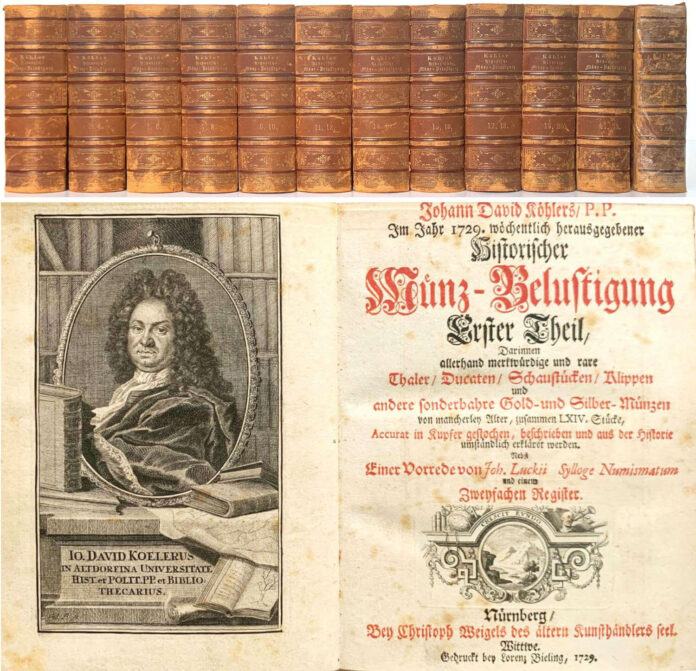 [bsa_pro_ad_space id=4]
10th Numismatic Literature Auction at Solidus
With the small but fine Literature Auction 111, Solidus offers on 18 December 2022 a high-quality range of 148 lots of selected numismatic literature with many rarities and bibliophilic treasures from the 16th till 19th century. Among the highlights are the following lots:
Historischer Münz-Belustigung erster (bis zweiundzwanzigster) Theil, darinnen allerhand merkwürdige und rare Thaler, Ducaten, Schaustücken, Klippen und andere sonderbahre Gold- und Silber-Münzen von mancherley Alter … accurat in Kupfer gestochen, beschrieben, und aus der Historie umständlich erkläret werden. 22 volumes and 2 register volumes (complete). Nuremberg 1729-1750, 1765 and 1788. 12 volumes uniformly bound. With bookplate. Very nice set of this complete work.
Silesii In Nummis oder Berühmte Schlesier in Müntzen, so durch Grosse Helden-Thaten, Durch Hohe und wichtige Amts-Würden, Oder durch Gelehrsamkeit und Schrifften, Ihrer Nahmen unvergeßlich gemacht. Breslau and Leipzig 1738.
Beschryving der Nederlandsche Historiepenningen: 4 Bände, Gravenhaage 1723-1731. Each with numerous beautiful copper illustrations. Contemporary full leather with gilt spine. Very fine copy.
Thesaurus Numismatum Modernum Huius Seculi. Historische Gedächtnis-Münzen des gegenwärtigen Seculi. Nürnberg 1711 – 1717. Bound in one volume in half leather. Impeccable and very attractive and fresh copy. Rare work. Accompanied by the extremely rare, mostly missing 1st delivery of the 2nd volume with the historical commemorative coins of the year 1710. Nuremberg 1720.
These and other mostly rare treasures of historical numismatic literature are a wonderful opportunity to make yourself a small or even large Christmas present.
Literature Auction 111 will take place on Sunday, 18 December 2022 at 5:00 p.m. CET as a live auction on the platform Auex. You can place your maximum bids before the auction – or during the live auction, where you can bid on the lots in real time, similar to a floor auction, and actively influence what happens at the auction. Pre-bids are already possible.
View the literature auction and all lots.
For further information, visit the Solidus Numismatik website.