[bsa_pro_ad_space id=4]
Numismatic Literature at Solidus
At the fifth Solidus Literature Auction 55 on the AUEX auction platform, no less than 1756 lots from the publication years 1615 to 2019 are offered in 13 languages (German, English, French, Russian, Spanish, Portuguese, Italian, Romanian, Polish, Swedish, Slovakian, Hungarian, Turkish).
In addition to numerous bibliophile rarities, important standard numismatic works as well as highly interesting auction catalogues of many important and sought-after collections are to be found. An absolutely impressive amount of literature on all epochs and subjects for coin collectors as well as for book lovers!
You can already place your pre-bids on the AUEX auction platform – all lots are illustrated and described. In the period leading up to the auction, also a printed catalogue will be published, which can be requested from Solidus. The live auction starts on Sunday, 29 March 2020 at 14:00 CET. You can download a complete catalogue as pdf (without pictures) here.
Some Highlights of the Auction: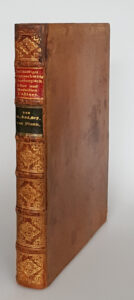 Bibliophile Literature
The beginning of the auction is dedicated to about 100 bibliophile works. The Thesaurus Numismatum Modernum Huius Seculi (Lot 1), a rare work with an owner's stamp and owner's note, which already achieved a high bid ten years ago, immediately catches the eye. Some of the exquisitely furnished works offered here with beautiful illustrations on picture and copper plates and some with magnificent bindings, will rarely be found at another auction. Several copies of the Wöchentlich herausgegebenen Historischen Münz-Belustigungen (Lots 45-57) are also remarkable. Several ex-libris tell the story of the books and their previous owners (e.g. Lot 80).
In the following section "General Numismatics" you will find some useful and informative standard numismatic works at quite moderate estimated prices.
Literature on Ancient Numismatics
The collector will find a large selection of standard works on ancient numismatics, but also treasures such as Die Münzen von Syrakus, which is very rare as original issue. Almost 300 items are a huge range of books for the lover of ancient coins.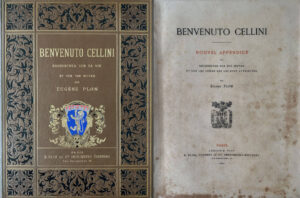 Middle Ages and Modern Times
The largest section contains numismatic literature of the Middle Ages and Modern Times with over 700 lots. Besides numerous original issues of standard works, there are several particularly beautiful editions, such as Lot 948, the monograph Benvenuto Cellini by E. Plon, whose magnificent cloth binding is an adornment of every collector's library, or Lot 1083, Die Münz und Medaillensammlung des Herrn Hans Wunderly von Muralt in Zürich – an original edition of in five volumes and excellent condition. Rare originals in top state of preservation can also be found under lot numbers 676, 836 and 855.
Journals
Among the journals on offer are a few older volumes, still from the 19th century. Even some complete series are offered, for example the Geldgeschichtliche Nachrichten, Frankfurt am Main, issues 1-212 from 1966-2003 (Lot 1199).
Auction Catalogues
Among the auction catalogues from before 1945 you will find particularly rich series by Cahn, Hamburger, Helbing, Hess, with many important and sought-after collections (e.g. col. Haeberlin, Raritäten Cabinet, Vogel, Doubletten des Kaiserlichen Münzcabinets der Eremitage in St. Petersburg, Eugen Felix, Fürstenberg). There are also auction catalogue series by Münzen und Medaillen GmbH, Leu Numismatik, Münzzentrum Albrecht+Hoffmann, Cologne, Schulman, J., Amsterdam – a total of over 500 lots.
All in all, the Solidus literature auction is a unique opportunity to secure long sought-after numismatic books and rarely found bibliophile treasures for your own library!
You can place your maximum bids before the auction – or during the live auction, where you can bid on the lots in real time, similar to a floor auction, and thus actively influence the auction process. The live auction starts on Sunday, 29 March 2020 at 14:00 hrs. Please register by Friday, 27 March at 13:00.
You can access the literature auction on AUEX or Sixbid.
Click here to visit the Solidus Numismatik website.