[bsa_pro_ad_space id=4]
Salton Library to Be Sold at Kolbe & Fanning
Kolbe & Fanning Numismatic Booksellers announces that on 18th September 2021, they will be selling at auction the extraordinary library formed by Mark and Lottie Salton. The Salton Library is especially rich in works devoted to ancient coins and the medallic arts and is notable for its extensive holdings of European auction catalogues, many of which are heavily annotated. The couple's broad numismatic interests are reflected in their wide-ranging library, which includes material on coins from all over the world.
Kolbe & Fanning is offering the library in cooperation with Fritz Rudolf Künker, of Osnabrück, Germany.
Some highlights of the sale include: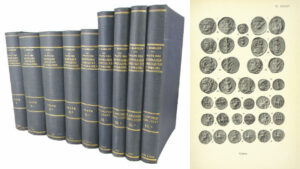 Lot 5: an original set of Ernest Babelon's classic Traité des monnaies grecques et romaines. Estimate: $10,000.
Lot 51: Francesco Gnecchi's magnificent three-volume I Medaglioni romani (1912), an extraordinary work on Roman medallions. Estimate: $3,000.
Lot 83: a complete set of Jules Maurice's scarce and important Numismatique constantinienne. Estimate: $750.
Lot 114: the best edition of the rare illustrated catalogue of the collection formed by the Vicomte de Sartiges, complete with supplement and 48 very fine plates. Estimate: $1,000.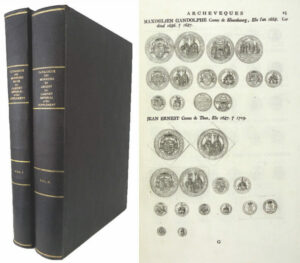 Lot 147: both volumes of the magnificent 1759–1770 folio catalogues of the Vienna cabinet, prepared for Empress Maria Theresa, with both supplements. Estimate: $7,500.
Lot 174: an original set of Auguste de Belfort's Description générale des monnaies mérovingiennes. Estimate: $2,000.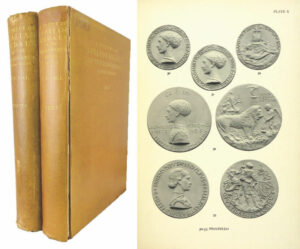 Lot 222: Mark & Lottie Salton's working copy of Hill's extraordinary 1930 Corpus of Italian Medals of the Renaissance before Cellini. Estimate: $2,000.
Lot 241: a very rare 1782 folio by Jean Gaspard Fuesli on the medallic work of Johann Carl Hedlinger, illustrated with exceptional mezzotint engravings. Estimate: $500.
Lot 368: Jacob Hirsch's 1908 auction catalogue of the Eduard Friedrich Weber collection of Greek coins (Hirsch's catalogue of Weber's Roman coins is also featured, as lot 370). Estimate: $750.

Lot 424: the original bidbooks for the auctions held by Felix Schlessinger (Mark Salton's father) between 1928 and 1937, recording bids received, buyers, prices, etc., and with additional materials laid in. Estimate: $5,000.
Here you can browse the online catalog of the sale.
Advance absentee bids may be placed at any time online; live internet bidding will be available during the sale itself through the same platform.
For more information on the company, please see the Kolbe & Fanning website or email David Fanning.