[bsa_pro_ad_space id=4]
Salton Library Exceeds All Expectations at Kolbe & Fanning
Kolbe & Fanning Numismatic Booksellers sold, in cooperation with Fritz Rudolf Künker, the numismatic library of Mark and Lottie Salton on Saturday, 18th September 2021. The sale received widespread attention from bidders around the world, and brought exceptional results, with over 95% of the lots selling.
Some highlights of the sale included:
Lot 7: Max Bahrfeldt's Nachträge und Berichtigungen zur Münzkunde der römischen Republik, one of the key publications on Roman Republican coins, brought $4,500 hammer.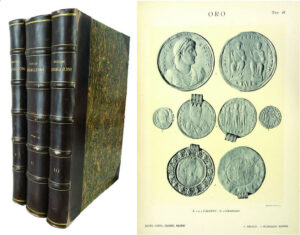 Lot 51: Francesco Gnecchi's magnificent three-volume I Medaglioni romani (1912), an extraordinary work on Roman medallions, sold for $9,500.
Lot 124: an exceptional set of the original editions of the SNG Copenhagen, complete in 43 fascicles, realized $10,000.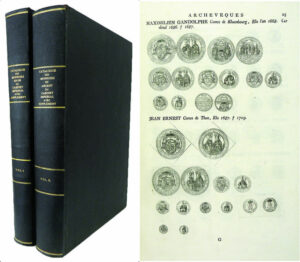 Lot 147: both volumes of the magnificent 1759–1770 folio catalogues of the Vienna cabinet, prepared for Empress Maria Theresa, with both supplements, brought $14,000.
Lot 287: a bound volume of six extremely rare 18th-century German coin auctions sold for $7,000 after very strong bidding.
Lot 233: an original set of the Corpus Nummorum Italicorum, the massive 20-volume compendium spearheaded by King Victor Emmanuel III, sold for $6,000.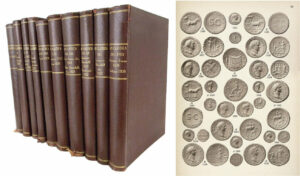 Lot 284: a complete set of the Ars Classica auction catalogues of ancient coins, published between 1921 and 1938 by Jacob Hirsch, realized $6,500.
Lot 400: an annotated copy of the 1896 Rollin & Feuardent catalogue of the Montagu collection of Roman & Byzantine gold coins, with 41 splendid plates, brought $6,000.
Lot 424: the original bidbooks for the auctions held by Felix Schlessinger (Mark Salton's father) between 1928 and 1937, realized $30,000.
Lot 457: Felix Schlessinger's bound volumes of coin auction records, continued by his son, Mark Salton, with tens of thousands of entries, sold for $35,000. This was the final lot of the sale and in many ways represented the apotheosis of the library.
The above prices do not include the 20% buyer premium. In all, the sale brought $381,520 hammer against an estimate of $176,280. This extraordinary result is a testament to the esteem in which the Saltons are held by the numismatic community and reflects the quality and rarity of much of their library. The successful bidders are from fourteen different countries, attesting to the library's widespread appeal.
Kolbe & Fanning are grateful for the active participation of their customers and looks forward to serving them in the future. Please check their website to stay abreast of all activities and to browse the retail stock of numismatic books. The Salton Library's online catalogue (as well as previous auctions) can be browsed as well.