[bsa_pro_ad_space id=4]
To mark the Centenary of Queensland and North Territory Aerial Services Ltd (Qantas), the Royal Australian Mint (the Mint) and the national carrier have revealed a new $1 Australian circulating coin, a collectible Qantas Centenary 11 Coin Set, along with a 'Golden Ticket' competition.
The Royal Australian Mint's responsible Minister, the Hon Michael Sukkar, the Minister for Housing & Assistant Treasurer said; "From humble beginnings in outback Queensland, the flying kangaroo is an integral part of Australia's renowned aviation industry. These aeronautically inspired coins will enable Australians to participate in the historic centenary of Qantas and celebrate how far our aviation industry has come."
Acknowledging this historic occasion for Australia's pioneering air service, the Royal Australian Mint presents a collection of eleven 2020 $1 uncirculated coins. Each coloured uncirculated coin features an aircraft or important story relating to the 100 years of the Qantas fleet. The eleventh is a special copper coin paying homage to the original Australian Kangaroo Penny, the inspiration for the Qantas Flying Kangaroo.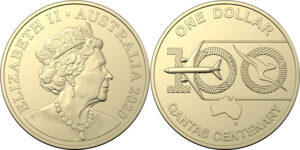 In addition, the Royal Australian Mint will be releasing a $1 Qantas Centenary commemorative circulating coin that will celebrate the airline's significant contributions to Australia's aviation history, tourism industry, economic health, military effort and national identity over the past 100 years. The Mint anticipates releasing five million of these coins into circulation from February 2020.
The design of the circulating coin communicates the airline's anniversary with a depiction of a plane flying through the number 100. The plane is a stylised Boeing Dreamliner, the newest addition to the Qantas fleet. The decorative line pattern on the number 100 emulates fingerprints, signifying that Qantas is a part of Australia's national identity.
Qantas, the longest continuously operating airline in the world, has been part of Australia's national story and the growth of Qantas is woven into the modern history of this country. Qantas's journey reflects a spirit of resilience, innovation and service that characterises Australians in times of war and peace. Today, Qantas is considered one of the world's leading airlines, connecting Australia with loved ones across the nation and the globe. It continues to embrace new technology to reduce the tyranny of distance.
With the launch of a 'Golden Ticket' competition, the Royal Australian Mint and Qantas are offering the exclusive opportunity to win 100,000 Qantas Frequent Flyer Points prizes. Ten golden tickets will be hidden in the Qantas Centenary 11 Piece Coin Collection Set for orders made until 20 December 2019.
The coins of the Qantas Centenary – 2020 $1 Coloured Uncirculated 11 Coin Set are Australian legal tender and can be purchased exclusively from Qantas Shopping Rewards Store. The coins can also be purchased from the Mint's online store. For more information on the Golden Ticket competition click here.
More information about the collection is also available in this video on YouTube.
Qantas has broken the record of the longest flight, with its newly scheduled flight from London to Sydney.