[bsa_pro_ad_space id=4]
Roma's E-Sale 81 and Results of E-Sale 80
E-Sale 81, held in association with Numismática Lucernae and Dutch Numismatic Auction by Agora Numismatiek (Amsterdam), is now online and open for bidding. Roma Numismatics Ltd. hosts this sale with two trusted colleagues and hopes that all bidders will benefit from these partnerships through the wider selection of material on offer. It features 2,123 lots of Celtic, Greek, Judaean, Roman, Byzantine, Islamic and World coins.
The Greek section in this sale showcases some wonderful rarities from around the Hellenistic world. A sizable group of Sicilian coins includes a very rare didrachm from Segesta and a litra from Syracuse of which there is only one other example on CoinArchives. These are joined by an unpublished quarter stater of Philip II of Macedon, a possibly unique example, and a group of rare bronzes from the Kingdom of Sophene including an extremely rare coin of Mithridates I, the second known example of the type.
The Roman Provincial section offers a number of classically significant coins depicting well known myths. An exceptionally rare bronze of Septimius Severus from Corinth depicts the myth of Ino and Melikertes, this is joined by a bronze of Gordian III depicting Hercules with the Nemean Lion on the reverse, another extremely rare piece. Of particular note in this section is a tetradrachm of Commodus which is published in Dattari (Savio) as part of his collection formed in Egypt prior to 1901, and also published as one of only four examples at RPC Online.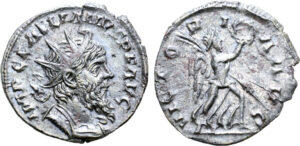 Coins with excellent pedigree can be seen across the Roman Republican and Imperatorial sections in this sale. A denarius of M. Acilius M. f. originally sold at Numismatic Fine Arts in March 1977 and a denarius of P. Fonteius P. f. Capito originally sold at CNG in August 1991 are joined by a Marc Antony denarius from the Eton College Collection originally sold at Sotheby's in 1976.
Further selections from the Vitangelo Collection can be seen throughout this sale in various categories, but the Roman Imperial section is where the breadth of this collection can be seen to the best advantage. Highlights include an extremely rare Galba sestertius, a rare Hadrian sestertius from his travel series, depicting Mauretania, and a very rare antoninianus of Julian I of Pannonia. Other coins of note in this section are an extremely rare medallion of Septimius Severus originally from the Phoibos Collection, a Laelianus antoninianus with a wonderfully detailed and expressive portrait and a very rare solidus of Anthemius.
Roma Numismatics' is pleased to be offering a sizable group of rare bronzes in the Islamic section including coins from the Artuqids of Mardin, the Ayyubid dynasty and the Seljuks of Rum, to name just a few. Following on from these rarities is the increasingly popular medieval and world category where an extremely rare Kings of Mercia penny of Coenwolf sits alongside a wonderful collection of Indian coins some from the Pridmore Collection and a George V anna graded MS 66 "Top Pop" by PCGS. A very rare variant of a Swiss Fribourg Stadt und Kanton groschen with a gothic legend and a high-grade gold dobla de 35 Maravedís of Pedro I from the Kingdom of Castile and León are also worthy of note.
The sale concludes with the ever-popular large lot category which is perfect for new collectors or seasoned buyers looking to boost their existing collection.
Lots will begin closing from 1pm (local UK time) on Thursday 25th February 2021 with one lot closing every 15 seconds. There will be no subsequent live session and when the lot closes at the end of the countdown, there will be no further bidding accepted. A 20% buyer's premium will apply to this sale. VAT is applicable to the Buyer's Premium only (not the hammer value of the lots) for UK customers only.
All lots of the E-Sale can be viewed on the website of Roma Numismatics.
E-Sale 80 Results & Highlights
Roma Numismatics expresses their sincere thanks to all valued bidders who helped to make the E-Sale 80 a success. 1,983 lots went under the hammer, resulting in total sales of £398,119 (excluding buyers' premiums) being achieved on behalf of our consignors.
Some notable results:
Lot 224 –A high grade gold stater of Kassander from Amphipolis sold for £4,200.
Lot 658 – A Baktrian tetradrachm of Sophytes from the 1960s Andragoras-Sophytes Group sold for £9,500.
Lot 1267 – An aureus of Trajan depicting Trajan's Forum on the reverse sold for £7,000.
Honourable mentions:
Lot 370 – A very rare Phanes 1/96 stater of Ephesos, published in Fischer-Bossert's "Phanes: A Die Study", sold for £3,800 from a starting price of £180.
Lot 822 – An unpublished bronze of Geta from Perinthus in Thrace sold for £1,100 from a starting price of £30.
Lot 1688 – A rare and high grade nummus of Constantine II as Caesar sold for £950 from a starting price of £30.
The full list of results can be viewed on Roma Numismatics' website.