[bsa_pro_ad_space id=4]
E-Sale 73 Is Now Online
E-Sale 73 is now online and open for bidding. It features 1,598 lots of Celtic, Greek, Judaean, Roman, Byzantine, Islamic and World coins. The sale opens with a return of selections from the notable William Stancomb Collection. Many of these coins are published in Sylloge Nummorum Graecorum Great Britain XI, and offer collectors an opportunity to bolster their collection with many rarities from this little studied Black Sea area.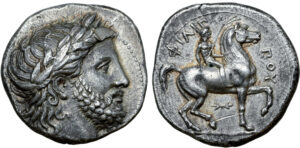 The Greek section showcases pieces with excellent pedigree, such as a trichalkon from Phalanna in Thessaly, originally from the BCD collection, sold at CNG in 2012, a high grade Macedonian tetradrachm of Philip II originally sold at Crédit Suisse in 1989 and an eastern Arabian tetradrachm, imitative of Ab'iel, originally sold at Numismatik Lanz in 1994 and subsequently published in van Alfen, "A Die Study of the Abiel Coinage of Eastern Arabia".
An extremely rare bronze of Antoninus Pius from Bizya and an unpublished bronze of Plautilla from Pylus, the first known example of the type, join a number of other rarities in the Roman Provincial section. A particularly desirable coin of Cornelia Supera from Parium is featured, a very rare example depicting this empress who enjoyed fame for only three months, the duration of her husband Aemilian's reign.
The Roman Imperial section in this sale features coins from scarcely seen emperors, of particular note is a rare sestertius of Didius Julianus, an emperor who ruled for only 66 days, this coin was originally sold at CNG in 2004. Other highlights from the section include a Trajan dupondius depicting the iconic Trajan's column, a Constantine I nummus in mint state condition, originally sold at Hauck & Aufhäuser in 2008 and a Leo I solidus in the same high grade originally from the Dr. A.V. Collection.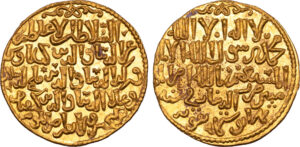 A sizable Islamic section showcases a rare dinar from the Seljuqs of Rum, under the reign of "the three brothers", well struck and in a wonderful state of preservation, and an Almoravid qirat in a high grade, extremely rare for this type.
The world section in this sale offers rarities from around the globe; a very rare real grosso of Alfonso V of Portugal and a unique and unpublished real of Enrique IV king of Castile and Leon are seen alongside a rare Louis II 2 franc essai of Monaco, of which only 200 were minted and 2 Russian srebrenniks, one, a very rare coin of Sviatopolk I Vladimirovich and one of Vladimir Sviatoslavich "the Great", Grand Prince of Kiev, a piece of great rarity and historical importance. This section also offers a sizable group of British coinage covering the period from 1369 to 2007 with examples from many monarchs, including a gold unite of James I, a gold 5 pound coin of Victoria in near mint state condition and a George V proof sovereign in mint state condition.
The sale concludes with the ever popular large lot category which is perfect for new collectors or seasoned buyers looking to boost their existing collection.
Lots will begin closing from 1pm (local UK time) on Thursday 23 July with one lot closing every 15 seconds. There will be no subsequent live session and when the lot closes at the end of the countdown, there will be no further bidding accepted. A 20% buyer's premium will apply to this sale. VAT is applicable to the Buyer's Premium only (not the hammer value of the lots) for UK and EU customers.
Klick here to browse through all lots of this auction on the Roma Numismatics website.