[bsa_pro_ad_space id=4]
Roma Numismatics E-Sale 78
Roma Numismatics E-Sale 78, held in association with Numismática Lucernae, is now online and open for bidding. Roma Numismatics Ltd. hosts this sale jointly with their trusted colleague and hopes that all bidders will benefit from this partnership through the wider selection of material on offer. It features 2,191 lots of Celtic, Greek, Judaean, Roman, Byzantine, Islamic and World coins.
The sale opens with a return of selections from the notable William Stancomb Collection. Many of these coins are published in Sylloge Nummorum Graecorum Great Britain XI and offer collectors an opportunity to bolster their collection with many rarities from this little studied Black Sea area.
Roma is delighted to offer further coins from The Marnix Collection in the Greek section of this sale. This collection, which also includes coins in the Roman and Islamic categories, boasts pieces with an excellent pedigree, such as an Ionian trite from an uncertain mint which was originally offered in Giessener Münzhandlung in 1989 and an unpublished 1/48 stater sold at Gorny & Mosch in 2010. Other highlights from this section include a high-grade transitional issue Athenian tetradrachm and an attractive tetradrachm of Plato from the Greco-Baktrian kingdom.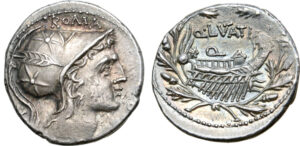 Across their Roman Provincial, Republican, Imperatorial and Imperial categories, the auction house is pleased to offer selections from two significant collections:
The Z.P. Collection from Austria includes a variety of high-grade pieces and desirable types. A Caracalla bronze from Adana in Cilicia, possibly the second known example joins a Q. Lutatius Cerco denarius in near mint state condition and a Judaea Capta sestertius of Vespasian.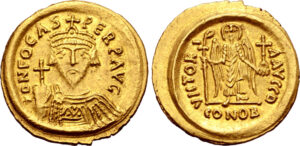 The Vitangelo Collection is particularly noteworthy for a number of rarities; a very rare variety of an L. Calpurnius Piso Frugi denarius, a very rare and uncommonly well detailed Q. Oppius as or dupondius and an equally rare double sestertius of Herennia Etruscilla. The Vitangelo Collection continues on into the Byzantine section with an impressive selection of rare gold from the mints of Thessalonica and Ravenna. Two high grade Justin II solidi each from one of these mints, along with a very rare Phocas solidus from Ravenna are just some of the desirable pieces in this section.
The single lot section of the sale is drawn to a close with a group of Greek and Roman sling bullets including one inscribed with either with the name of Pompey the Great, or his son Gnaeus Pompey. These sling bullets are generally believed to be from the Pompeian legions stationed in Spain during the war against Caesar, and particularly The Battle of Munda (45 BC) which ended the civil war.
The sale concludes with the ever-popular large lot category which is perfect for new collectors or seasoned buyers looking to boost their existing collection.
Lots will begin closing from 1pm (local UK time) on Thursday 17th December 2020 with one lot closing every 15 seconds. There will be no subsequent live session and when the lot closes at the end of the countdown, there will be no further bidding accepted. A 20% buyer's premium will apply to this sale. VAT is applicable to the Buyer's Premium only (not the hammer value of the lots) for UK and EU customers.
All lots of the E-Sale can be viewed on the website of Roma Numismatics.
E-Sale 77 Results & Highlights
The auction house would like to express their sincere thanks to all wonderful and valued bidders who helped to make Roma Numismatics Ltd.'s E-Sale 77 a huge success. 2,156 lots went under the hammer, resulting in total sales of £447,843 (excluding buyers' premiums) being achieved on behalf of the consignors.
Some notable results:
Lot 108 – A silver unit of Populonia in Etruria, the third known example, sold for £3,800.
Lot 650 – A unique and unpublished tetradrachm of Artemidoros Aniketos sold for £3,600.
Lot 1011 – A Julius Caesar denarius from the McCabe collection, displaying a superb portrait of Caesar sold for £5,500.
Honourable mentions:
Lot 695 – A rare bronze of the deified Augustus from Sabratha of which only six examples are listed by RPC, sold for £850 from a starting price of £60.
Lot 1635 – A scarce El Salvador un centavo sold for £800 from a starting price of £45.
Lot 1848 – A Faisal II 50 fils from Iraq sold for £1,800 from a starting price of £84.
The full list of results can be viewed on Roma Numismatics' website.