[bsa_pro_ad_space id=4]
Roma Numismatics E-Sale 83
Roma Numismatics' E-Sale 83 is now online and open for bidding. It features 1,824 lots of Celtic, Greek, Judaean, Roman, Byzantine, Islamic and World coins as well as books. The sale closes on 6th May 2021.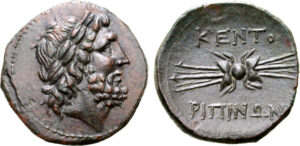 The Greek section in this sale showcases pieces with some wonderful provenance previously sold as part of the Thrax collection, which is known for its considerable range of Thracian rarities, with coins from little known cities that are very infrequently seen on the market. Highlights from this group include an Ainos drachm in attractive early classical style, which was sold at Helios in 2011, and a very rare tetradrachm from the same city which was originally sold at CNG in 2012. Other notable highlights in this category include a spectacular bronze of Kentoripai, a very rare Macedonian tetradrachm struck in Salamis in a high grade and of fine style and a Parthian drachm of Mithridates II with a striking portrait of the king.
A number of rarities can be found across the Roman Provincial section, such as a Tiberius bronze from Hypaepa in alliance with Sardes, possibly the third known example, an extremely rare medallion of Commodus from Thyatira and the first recorded example of a Geta medallion from Mytilene. These precede a group of cast bronze coinage from the early republican period and a very rare denarius of the deified Julius Caesar with a bold portrait which can be found in the following categories.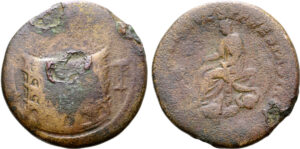 Roma offers further selections from the Antonio Carmona collection in the Roman Imperial section. Carmona is an active member of the Asociación Numismática Española (Spanish Numismatic Society) since 1970, and a vocal advocate in the defense of legal and educational coin collecting. His collection, consisting of primarily of bronze pieces from across the empire, includes many rarities and pieces of historical significance. While unfortunately not having recorded individual provenances, it is known that 450 coins were bought from the collection of Ana Espuny in 2006, and a further 953 were acquired from Almoneda Los Remedios in Malaga, with the remainder being mostly purchased from auction houses such as Áureo & Calicó, Jesus Vico S.A., José A. Herrero S.A. and others. A notable highlight of the collection in this sale is an extremely rare colosseum sestertius of the deified Titus, of particular historical significance and arguably one of the most sought-after architectural types. Other desirable coins in this category include coins originally from the Peter Stagnetto collection and previously published in Spink Numismatic Circular in 2000; two such are a Severus Alexander denarius in mint state condition and a very high grade Maximinus I denarius. These sit alongside an extremely rare Constans bronze from Lugdunum and an Arcadius solidus in near mint state condition.
The sizable medieval and world category in this sale boasts a number of collections. Selections from the Vitangelo collection, which has been in popular demand for the last few sales, here offers coins primarily from the Italian states with a number of very rare coins struck under the rule of the Medicis in Florence. Of particular note is an extremely rare and attractive testone of Ferdinando II de' Medici, a fiorino grosso da 6 denari, only the second known example of the type and an interesting imitative Luigino from Lucca used for trade in the Levant. Roma is also pleased to offer a large group of coins from the collection of the late Eduard Winkler, a German-born engineer, businessman and charity organiser in East Yorkshire who remained in the county after arriving as a PoW. The collection includes coins from his hometown of Hamburg and a selection from his adopted country. This section also includes coins from the N. M. McQ. Holmes collection, many of which have excellent pedigree. A zehner from Nürnberg which was originally sold at Frankfurter Münzhandlung in 1999 and a Poppo von Babenberg denar from Trier, originally from the de Wit collection join a Ludwig II 5-mark coin which was originally sold in Gorny & Mosch in 2001. Other highlights from this category include two "Aramco" gold 1-pound coins in mint state condition. These coins were minted in the USA for the Arabian American Oil Company who used them to pay the £3 million dollars royalties to the Saudi Arabian government each year.
The single lot section of the sale is rounded off with a selection of numismatic books and reference works useful for any collector wanting to grow their library. The sale concludes with our ever-popular large lot category which is perfect for new collectors or seasoned buyers looking to boost their existing collection.
Lots will begin closing from 1PM (local UK time) on Thursday 6th May 2021 with one lot closing every 15 seconds. There will be no subsequent live session and when the lot closes at the end of the countdown, there will be no further bidding accepted. A 20% buyer's premium will apply to this sale. VAT is applicable to the Buyer's Premium only (not the hammer value of the lots) for UK customers only.
View all lots and submit bids on the website of Roma Numismatics.