[bsa_pro_ad_space id=4]
Roma Numismatics E-Sale 82
Roma Numismatics' E-Sale 82 is now online and open for bidding. It features 1,986 lots of Celtic, Greek, Judaean, Roman, Byzantine, Islamic and World coins.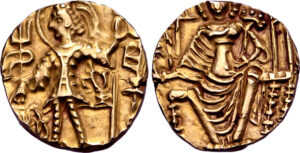 The Greek section in this sale offers a sizable group of coins from the Black Sea area from the GK Collection, including a number of rarities from the Kingdom of Bosporos such as an extremely rare bronze from the time of Polemo I of which there is only one other example on CoinArchives and a very rare bronze 48 unit coin of Sauromates I of which only 4 others are listed on RPC Online. Other highlights of the Greek section include a Troas bronze from Antandros, originally sold at CNG in 2001 and a gold dinar from the Kushan Empire originally sold at Kölner Münzkabinett in 1995.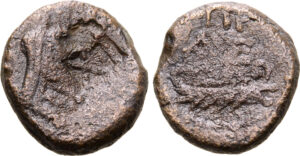 The Judaean and Roman Provincial sections also offer desirable rarities and notable pieces: a hybrid prutah of Pontius Pilate joins a historically interesting pseudo-autonomous bronze from Ascalon displaying a countermark of the Legio X Fretensis, the legion established by Octavian. An extremely rare Cistophoric tetradrachm of Hadrian, a drachm of the same emperor depicting the Pharos of Alexandria and a tetradrachm of Philip II from Antioch which is published at RPC Online are just a few of the other highlights to be found across these categories.
A selection of anonymous cast bronzes from the Vitangelo collection join a very rare denarius of Julius Caesar and a high grade and attractive Marc Antony legionary denarius in the republican and imperatorial categories. Desirable high-grade pieces can be found in the following Roman Imperial section, including a mint state Augustus denarius and an antoninianus of Elagabalus also in mint state condition. Roma is offering the first in a series of selections from the collection of Antonio Carmona, an active member of the Asociación Numismática Española (Spanish Numismatic Society) since 1970, and a vocal advocate in the defense of legal and educational coin collecting. His collection, consisting of primarily bronze pieces from across the empire includes many rarities and pieces of historical significance. While unfortunately not having recorded individual provenances, 450 coins were bought from the collection of Ana Espuny in 2006, and a further 953 were acquired from Almoneda Los Remedios in Malaga, with the remainder being mostly purchased from auction houses such as Áureo & Calicó, Jesus Vico S.A., José A. Herrero S.A. and others. An extremely rare sestertius of Diva Faustina I depicting the temple of Antoninus Pius and Faustina, a Philip II as commemorating the 1000th anniversary of the founding of Rome and a possibly unique dupondius of Nerva are just a few highlights of the selection presented in this auction.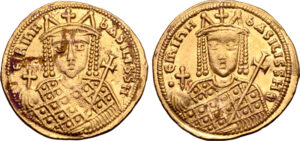 Highlights from the Byzantine section include a desirable solidus from the sole reign of Irene, an unpublished and possibly unique solidus of Justinian II and an exceptionally heavy example of an anonymous 40 Nummi coin. The single lot section is concluded by an interesting group of Paduans featuring a copy by Carl Wilhelm Becker of a Laelianus aureus and a cast Caius Marius medallion attributed to the workshop of Valerio Belli. The sale concludes with the ever popular large lot category which is perfect for new collectors or seasoned buyers looking to boost their existing collection.
Lots will begin closing from 1 PM (local UK time) on Thursday 15th April 2021 with one lot closing every 15 seconds. There will be no subsequent live session and when the lot closes at the end of the countdown, there will be no further bidding accepted. A 20% buyer's premium will apply to this sale. VAT is applicable to the Buyer's Premium only (not the hammer value of the lots) for UK customers only.
View all lots and submit bids on the website of Roma Numismatics.