[bsa_pro_ad_space id=4]
Roma Numismatics E-Sale 76 Online
Roma Numismatics' E-Sale 76 is now online and open for bidding. It features 1,576 lots of Celtic, Greek, Judaean, Roman, Byzantine, Islamic and World coins.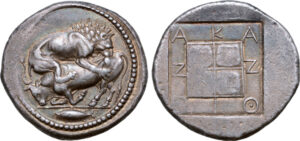 Highlights from the Greek section include a high grade tetradrachm of Akanthos, an extremely rare gold stater from Magnesia ad Maeandrum of considerable numismatic importance due to the magistrates signature on the reverse and a high grade Athens tetradrachm displaying full helmet crest.
Roma showcases many unpublished and rare types in a sizeable Roman Provincial section. An Augustus bronze of Buthrotum, the first known example of the type and an unpublished Faustina II bronze from Nicaea join a unique bronze of Philip I. from Seleucia in Pisidia published at RPC Online.
The Roman Imperial section boasts coins with impressive pedigree such as a Marcus Aurelius sestertius originally from the W.M. Stoecklin Collection acquired prior to 1981, an extremely rare antoninianus of Gallienus previously sold at F. Kovacs in 2004 and a unique medallion of Valerian II or Saloninus, published in four different reference works in addition to previously being part of the collections of Charles Watson-Wentworth, 2nd Marquess of Rockingham and Earl Fitzwilliam's Wentworth Estates Company.
Turning to the Byzantine selection, of particular note is a solidus of Constantine VII Porphyrogenitus, with Romanus I and Christopher in mint state condition, a very rare basilikon of Andronicus II Palaeologus and Michael IX including imperial names in the reverse legend and a high grade solidus of Justin I and Justinian II, an extremely rare joint reign issue.
Highlights from the World section include an extremely rare Anglo-Saxon penny of Aethelred II, a rare sterling of Edward the Black Prince and three high grade Swiss Francs from the collection of Italo Vecchi.
The sale concludes with the ever popular large lot category which is perfect for new collectors or seasoned buyers looking to boost their existing collection.
Lots will begin closing from 1pm (local UK time) on Thursday 5 November with one lot closing every 15 seconds. There will be no subsequent live session and when the lot closes at the end of the countdown, there will be no further bidding accepted. A 20% buyer's premium will apply to this sale. VAT is applicable to the Buyer's Premium only (not the hammer value of the lots) for UK and EU customers.
Here you can browse through the online catalogue.
E-Sale 75 Results & Highlights
1,811 lots went under the hammer in Roma's E-Sale 75, resulting in total sales of £353,326 (excluding buyer's premiums) being achieved on behalf of our consignors.
Some notable results
Lot 264: A rare stater of Kyzikos depicting a nude youth holding a tunny fish sold for £2,600.
Lot 594: A high grade and attractive sestertius of Nero Claudius Drusus sold for £2,400.
Lot 365: An extremely rare Cyprus stater, seemingly the first recorded example, sold for £2,400.
Honourable mentions
Lot 1500: A Roberto I d´Angiò gigliato from Naples sold for £420 from an opening price of £32
Lot 406: A very rare bronze of Alexander I Balas struck in Laodikeia sold for £460 from an opening price of £40.
Lot 446: A very rare Judaean bronze of Antoninus Pius sold for £420 from an opening price of £40.
On the Roma Numismatics' website you can see the full list of results of e-sale 75.
Coins Available for Direct Purchase
Any lots that did not already sell in the auction are available to purchase at fixed prices on the shop page on the Roma website, corresponding to the opening price plus buyer's premium and VAT. They will be available for a limited time only, and will be returned to their owners once the unsold lot period expires.
All lots of the current auction are available on the Roma numismatics website.