[bsa_pro_ad_space id=4]
Roma Numismatic E-Sale 77
Roma Numismatics' E-Sale 77 is now online and open for bidding. It features 2,156 lots of Celtic, Greek, Judaean, Roman, Byzantine, Islamic and World coins.
The sale opens with a return of selections from the notable William Stancomb Collection. Many of these coins are published in Sylloge Nummorum Graecorum Great Britain XI, and offer collectors an opportunity to bolster their collection with many rarities from this little studied Black Sea area. Highlights from the Greek section, include an extremely rare silver unit of Populonia in Etruria, one of only three known examples, an unpublished and possibly unique litra of Eryx in Sicily and an electrum trite from Ionia, one of the earliest struck coins in the Western world.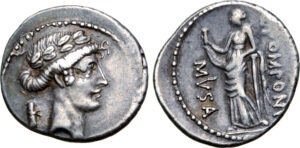 The Roman Provincial section offers a number of desirable rarities. An unpublished and possibly unique bronze of Julia Maesa and a bronze of Geta, as Caesar, from Pessinus in Galatia, of which no other examples are on CoinArchives are joined by an extremely rare bronze of Philip I from the Koinon of Macedon of which only two specimens are cited by RPC online.Also on offer will be selections from the Andrew McCabe Collection of Roman Republican and Imperatorial coinage in this sale. This collection offers pieces with excellent pedigree; a rare club series victoriatus, originally sold at Karl Kreß auctions in 1972, sits alongside a Q. Pomponius Musa denarius with an attractive old cabinet tone, originally sold at Dr. Busso Peus Nachfolger in 1954 and a rare and high grade anonymous denarius, originally sold at Crédit Suisse in 1986.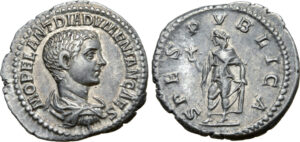 A Maximinus II nummus in near mint state condition and a high grade Diadumenian, as Caesar, denarius with an attractive portrait of the emperor, are just two desirable coins in the Roman Imperial section. Of particular note are three coins from the Thruxton Hoard found in Hampshire from 2014-2016, a Valens light miliarense, a Valentinian II light miliarense and a Theodosius I miliarense.
The Byzantine selection offers a very rare lightweight solidus of 20 siliqua of Justinian I, and a mint state solidus of Justin II, along with other desirable coins such as a historically interesting siliqua of Justinian I issued at Carthage after the reconquest of the African province from the Vandals by Belisarius. Highlights from our World section include a high grade gold 100 corona coin of Franz Josef I and a collection of exonumia; a fascinating set of curiosities offering a rare personal insight into contemporary events and emotions.
The sale concludes with the ever popular large lot category which is perfect for new collectors or seasoned buyers looking to boost their existing collection.
Lots will begin closing from 1pm (local UK time) on Thursday 26 November with one lot closing every 15 seconds. There will be no subsequent live session and when the lot closes at the end of the countdown, there will be no further bidding accepted. A 20% buyer's premium will apply to this sale. VAT is applicable to the Buyer's Premium only (not the hammer value of the lots) for UK and EU customers.
All lots of the E-Sale can be viewed on the website of Roma Numismatics.
E-Sale 76 Results
In E-Sale 76 1,576 lots went under the hammer, resulting in total sales of £343,943 (excluding buyer's premiums) being achieved on behalf of the company's consignors.
Some notable results
Lot 143: A beautiful and high grade stater of Philip II struck in Pella sold for £3,000.
Lot 339: A very rare Kingdom of Lydia, Kroisos gold 1/24 stater sold for £3,200.
Lot 953: A rare aureus of Antonia Minor, mother of Claudius I sold for £3,600.
Honourable mentions
Lot 665 – A very rare Commodos bronze from Pergamum in Mysia depicting Achilles and Telephus sold for £2,200 from a starting price of £90.
Lot 440 – An extremely rare silver 1/32 shekel from Byblos in Phoenicia sold for £460 from a starting price of £30.
Lot 1199 – An attractive late Roman nummus of Maximian struck in Carthage and depicting Carthago on the reverse sold for £380 from a starting price of £30.
The full list of results can be viewed on Roma Numismatics' website.