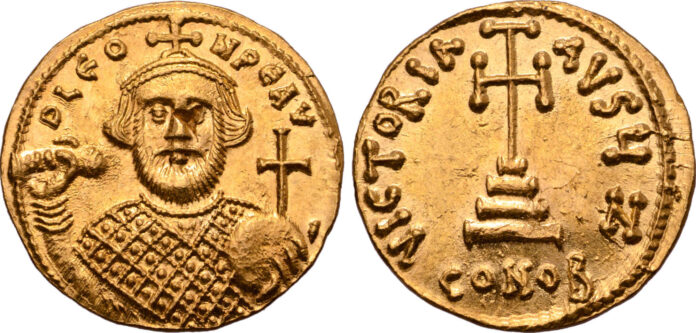 [bsa_pro_ad_space id=4]
Roma E-Sale 74
E-Sale 74 is now online and open for bidding. It features 1,651 lots of Celtic, Greek, Judaean, Roman, Byzantine, Islamic and World coins.
The sale opens with the final selection from the notable William Stancomb Collection. Many of these coins are published in Sylloge Nummorum Graecorum Great Britain XI, and offer collectors an opportunity to bolster their collection with many rarities from this little studied Black Sea area.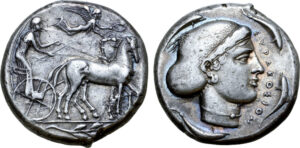 Two tetradrachms, one from Syracuse and the other Akanthos, are beautiful highlights of the Greek section, which also offers an outstanding Achaemenid Empire siglos amidst its many rarities. To mention just a couple more, there is an unpublished Mallos stater, a very rare Keramos Æ19 and a Populonia 20 Asses which is just the second recorded example of this type.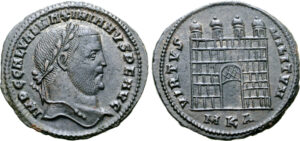 Two exciting collections of Roman coins feature in E-Sale 74. Firstly, there is an extensive collection of camp gate coins from the Richard Stirk Collection, a selection that offers the opportunity to acquire some extremely rare camp gate types and delve into a particularly interesting period of military history that saw the Romans less concerned with expansion of the empire and more keenly focused on security. Secondly, there is a very desirable selection of London mint coins from the Ken Elks Collection of Romano-British coins, all in exceptionally good condition.
Beyond these two collections, the Roman Imperial section of this sale boasts some very high-quality pieces, to take just two, a Fleur de Coin Severus Alexander denarius and a Mint State City Commemorative nummus. With a keen eye, you will find some superb portraits in this section including on an Allectus nummus, a Julia Domna denarius and a Gratian solidus.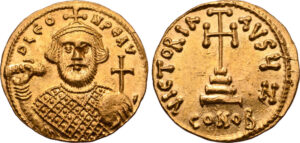 Turning to the Byzantine section, a lustrous Mint State Leontius solidus is not to be missed in this exciting section, which also features an Irene solidus with an intriguing tale of the imperial family behind it. Struck after AD 797, when Irene had had her son Constantine VI deposed and murdered, this solidus depicts Irene on both the obverse and reverse, and marks a distinct shift from the types of her predecessors.
The sale concludes with the popular large lot category which is perfect for new collectors or seasoned buyers looking to boost their existing collection.
Lots will begin closing from 1pm (local UK time) on Thursday 20 August with one lot closing every 15 seconds. There will be no subsequent live session and when the lot closes at the end of the countdown, there will be no further bidding accepted. A 20% buyer's premium will apply to this sale. VAT is applicable to the Buyer's Premium only (not the hammer value of the lots) for UK and EU customers.
E-Sale 73 Results & Invoices, Highlights, and Direct Sale Lots
In Roma Numismatics Ltd.'s E-Sale 73 1,598 lots went under the hammer, resulting in total sales of £425,052 (excluding buyers' premiums) being achieved on behalf of the consignors.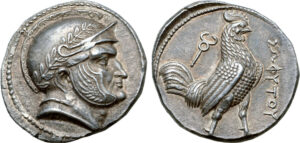 Some notable results
Lot 560: An extremely rare Sophytes tetradrachm from the 1960s Andragoras-Sophytes Group sold for £11,000.
Lot 1449: A unique Enrique IV el Impotente real from the Don Ferrante Collection sold for £8,500.
Lot 992: A Crispus solidus, an unpublished officina of a type for which only three other examples are known, acquired from Bertolami Fine Arts Ltd. sold for £7,500.
Honourable mentions
Lot 494: A very rare Amathos tetrobol sold for £3,000 from a starting price of £175.
Lot 183: A Kalchedon Æ24 from the William Stancomb Collection sold for £600 from a starting price of £50.
Lot 180: A Herakleia Pontika Æ29 published in Sylloge Nummorum Graecorum, Sammlung Hans von Aulock and from the William Stancomb Collection sold for £1,000 from a starting price of £100.
For the full list of results please view the closed sale here.
Coins Available for Direct Purchase
Any lots that did not already sell in the auction are available to purchase at fixed prices on the shop page on the Roma website, corresponding to the opening price plus buyer's premium and VAT. They will be available for a limited time only, and will be returned to their owners once the unsold lot period expires.
All lots of the current auction are available on the Roma numismatics website.