[bsa_pro_ad_space id=4]
Roma E-Sale 71 Now Online
E-Sale 71 is now online and open for bidding. It features 1,722 lots of Celtic, Greek, Judaean, Roman, Byzantine, Islamic and World coins.
Lots will begin closing from 1pm (local UK time) on Thursday 28 May with one lot closing every 15 seconds. There will be no subsequent live session and when the lot closes at the end of the countdown, there will be no further bidding accepted. A 20% buyer's premium will apply to this sale. VAT is applicable to the Buyer's Premium only (not the hammer value of the lots) for UK and EU customers.
The sale opens with the now familiar selection from the notable William Stancomb Collection. Many of these coins are published in Sylloge Nummorum Graecorum Great Britain XI, and offer collectors an opportunity to bolster their collection with many rarities from this little studied Black Sea area. The Greek section showcases some attractive and high grade pieces, including a beautiful murex-symbol Metapontion stater with an attractive cabinet tone, an iconic and high grade Athenian tetradrachm displaying the full helmet crest of Athena on the obverse and a gold stater of Philip III from Magnesia ad Maeandrum displaying dies of beautiful style.
A very rare bronze of Claudius from Mallus and an extremely rare Commodus bronze from Hadrianopolis join a number of other rarities in the Roman Provincial section. Of particular note here is a Philip I medallion of Hadrianeia in Mysia, originally sold at Numismatic Naumann in 2017, this is the only cited example of the type on RPC Online.
A highlight of this sale is the selection of coins from the Andrew McCabe Collection. Covering the Roman Republic and Roman Imperators, this group is particularly worth mentioning for the many impressive pedigrees. An FDC anonymous quinarius originally sold at Harlan J Berk in 1996, a Pinarius Natta denarius offered at credit Suisse in 1986 and a C. Vibius C. f. C. n. Pansa Caetronianus denarius originally from the Dr. H. F. Harwood Collection, sold at Glendining in 1976 are just a few of the coins boasting excellent provenances in this section.
The sizable Roman Imperial section in this sale features some wonderful rarities including an extremely rare Septimius Severus denarius of which there is only one other example on CoinArchives, an apparently unpublished Carus antoninianus and a very rare early camp-gate issue of Maximinus II as Caesar.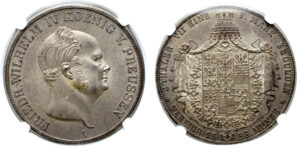 The world section in this sale is a testament to this burgeoning new area for Roma Numismatics, offering coins from across the globe. Special highlights include a superbly preserved double thaler of Friedrich Wilhelm IV, a high grade gold sovereign of Victoria from 1850 and rare 10 lire of Victor Emmanuel III from Italian Somaliland.
The sale concludes with our ever popular large lot category which is perfect for new collectors or seasoned buyers looking to boost their existing collection.
Click here to view lots and submit your bids now.
E-Sale 70 Results & Invoices, Highlights, and Direct Sale Lots
In Roma Numismatics Ltd.'s E-Sale 70 1,579 lots went under the hammer, resulting in total sales of £284,406 (excluding buyers' premiums) being achieved on behalf of the consignors.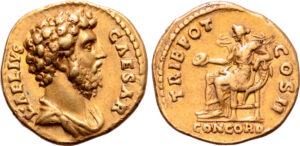 Some Notable Results
Lot 502 – A high grade and sharply struck Akanthos tetradrachm acquired from Leu Numismatik AG sold for £7,500.
Lot 839- An extremely rare and high grade Andragoras tetradrachm originally from the 1960's Andragoras-Sophytes group sold for £3,200.
Lot 1157 – A rare Aelius, as Caesar aureus originally from the Monsieur Note Collection sold for £7,500.
Honourable Mentions
Lot 165 – A Paphlagonian bronze from Amastris published in SNG Stancomb sold for £420 from a starting price of £30.
Lot 313 – A very rare bronze from Icosium in Mauretania from the Amilcare Collection sold for £800 from a starting price of £30.
Lot 702 – An unpublished and possibly unique stater from the Lykian dynast Artumpara sold for £2,200 from a starting price of £120.
For the full list of results please view the closed sale here.
Coins Available for Direct Purchase
Any lots that did not already sell in the auction are available to purchase at fixed prices on the Roma shop page on their website, corresponding to the opening price plus buyer's premium and VAT. They will be available for a limited time only, and will be returned to their owners once the unsold lot period expires.