[bsa_pro_ad_space id=4]
Pobjoy Mint has minted a new 2021 silver bullion coin featuring flamingos and for the first time produced in a unique reverse frosted background. The coin has been issued on behalf of the British Virgin Islands Government.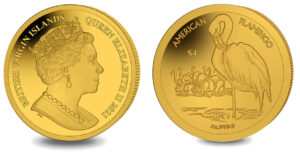 The design of the coin shows the endemic American flamingo standing on one leg with a flock of flamingos in the background.
Approved by Buckingham Palace this coin carries an effigy of Her Majesty Queen Elizabeth II exclusively by Pobjoy Mint, which also features a frosted background. A silver bullion privy mark "P" is also present which is unique to Pobjoy Mint bullion coins.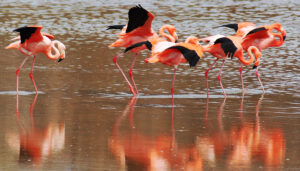 American flamingos are a large species also known as the Caribbean Flamingo. Most of this birds' plumage is pink, giving rise to its earlier name of 'rosy flamingo'. The wing coverts are red and the primary and secondary flight feathers are black. The bill of this particular species is pink and white with an extensively black tip while its legs are entirely pink.
The word 'flamingo' comes from the Portuguese/Spanish 'flamengo' meaning 'flame- coloured' which is particularly apt for this bird with its pink or reddish colour coming from carotenoids in their diet of animal or plant plankton. They are very social birds who live in colonies which can number in the thousands and they are often seen standing on one leg while the other is tucked beneath their body.
Bullion coins are always a very attractive purchase due to their intrinsic metal value and with this design featuring a new enhanced reverse cameo finish, it is an even more attractive purchase. In order to maintain the exclusivity of this piece, no more than 10,000 of the 1oz Fine 999. Silver Reverse Frosted Bullion coins will be produced.
You can find more issues by Pobjoy Mint in our online database Cosmos of Collectibles.
Don't miss to subscribe to the bi-weekly newsletter with all new issues of the last two weeks!
For more information on these bullion coins visit the Pobjoy Mint website.
And if you are a curious bird-lover you will find more details on the American Flamingo at ebird.org
Are you more the practical type? Why not try to make a flamingo on your own – as origami!