[bsa_pro_ad_space id=4]
Following the success of the previous releases of Pegasus coins, Pobjoy Mint releases a new version of this popular coin this time produced in half gram Gold. The design shows Pegasus, the mythical horse, rearing up with his wings spread. This beautiful coin, which is produced in Proof Fine 999. Gold, is issued on behalf of the British Virgin Islands.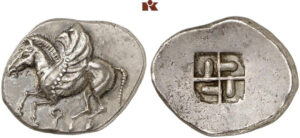 Pegasus is one of the best-known creatures in Greek mythology. This winged horse is usually depicted as white in color and was always considered a good-hearted and gentle animal. Throughout his life, Pegasus remained a mysterious creature that symbolized divine inspiration or the journey to heaven. As a reward for his service and loyalty, Zeus honored him with a special immortality, turning him into a constellation on the last day of his life.
Approved by Buckingham Palace this coin carries an effigy of Her Majesty Queen Elizabeth II exclusively by Pobjoy Mint. The Gold Proof Coin is presented in a Red Box with Numbered Certificate of Authenticity.
For more information about the coin, visit Pobjoy Mint's website.
Click here for more information about the previous Pegasus coin in silver.
In 2018, the British Virgin Islands issued a Pegasus coin in Virenium.
CoinsWeekly published an article about the myth of Pegasus and its depiction on Corinthian coins.
In our Cosmos of Collectibles database you will find many more coins by Pobjoy Mint.
Watch the story of Pegasus and his afterlife in culture: