[bsa_pro_ad_space id=4]
The Federal Mint Swissmint launched with "Platinum" their first platinum coin of its kind that is available for sale only in proof quality and only online.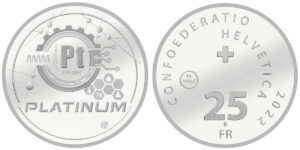 The platinum coin with a nominal value of CHF 25 is Swissmint's first commemorative coin to be issued in platinum. This coin will be available for sale only in proof quality in a presentation case with a numbered certificate of authenticity, and can only be purchased from our internet shop. The obverse features a modern illustration of platinum as a raw material. It depicts the element symbol Pt for platinum in the middle of a cogwheel, among other things. To the left of it is a column of atomic numbers from the periodic table, which add up to 78. The number 195.084 below the symbolic element Pt corresponds to the atomic mass. In the lower third of the obverse, the word PLATINUM is featured in capital letters and in italics. The coin was designed by Swissmint engraver, Remo Mascherini.
Platinum is a chemical element. It has a high density and is significantly harder than gold. The precious metal is very resistant to corrosion and has a melting point of approximately 1,800° C. Platinum was probably first used in Ancient Egypt in around 3000 BC. Today, platinum is used in a variety of areas, including automotive catalytic converters, jewellery, coins, laboratory and analytical equipment, medical implants, pacemakers and cancer therapy. The main sources of raw materials are South Africa, Russia, Canada and the US.
For more information on the coin and how to purchase it, go to the Swissmint website.
All coins of the Swiss Confederation can also be found in our database Cosmos of Collectibles.
And if you don't want to miss any more new issues, subscribe to the 14-day newsletter of Cosmos of Collectibles.
If you want to know exactly how Swiss coins are created at Swissmint, we recommend this article.