[bsa_pro_ad_space id=4]
After we've taken a close look at Vatican euro coin sets issued from 2002 on in part one of this article, I want to dedicate the second part to 2 euro commemorative coins and to the first numis covers of the Vatican City State. Starting in 2004, 2 euro commemorative coins were the beginning of an almost overwhelming tide of numismatic issues that no one really needed. However, in recent years, the UFN became a company that has to make use of tough marketing strategies in order to survive. Especially after the papacy of Pope Benedict XVI, customers experienced the effects of this development.
Even though letters flooded the UFN every day, in 2004, all Vatican coin issues were still a rarity on the collector market. Everyone in Europe seemed to want to subscribe to Vatican coins. It was not unusual that entire families, from grandmother to grandson, suddenly started collecting euro coins, focusing on the Vatican. However, the then still limited issuing number of coins the Vatican was subjected to did not allow for larger amounts of coins to be produced.
Rumours and Fantasy Coins
During this time – especially in Germany – there was an abundance of alleged Vatican coins on offer that, in fact, were no Vatican coins at all. "Are you looking for the new 2 euro commemorative coin from Vatican City? We have it!", or, "Do you think that Vatican coins are too expensive? We sell them at the issue price." Those statements attracted people, especially those who didn't know anything about coins and only wanted to buy a nice gift for their grandchildren. When the item was handed over, the lucky buyer discovered that the coin came along with a disappointed face free of charge. In any case, the money was gone. And those who were "extremely lucky" received such fake coin sets from then on almost on a weekly basis and had to pay a lot of money for it because they subscribed to it. Even though the coins' design was adapted to the current issues of the Vatican, they weren't euro coins but pieces without any (nominal) value. The producers of those pieces were quite shameless when it came to giving the impression that the "coins" were authentic pieces. When some dealers took it too far and had their coins feature slightly modified logos and coats of arms, the UFN felt compelled to publish an official announcement in the German-speaking collector's magazines. Unfortunately, that did not help much, even today such offers can be encountered quite often.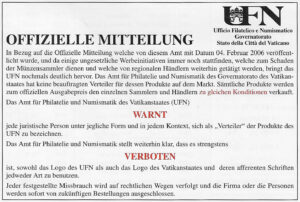 The 2 Euro Commemorative Coins of the Vatican
If you take a look at the evolution of the prices of these pieces, you will see that – just like it was the case with coin sets – only the first four issues (2004–2007) were able to maintain their price levels. The middle range is very small and currently only extends to 2010. However, these issues did not lose their entire value. Regarding Germany, especially the time of the papacy of Benedict XVI (2005–2013) should be kept in mind, because it will take some time until a German bishop will sit on the Holy See once again.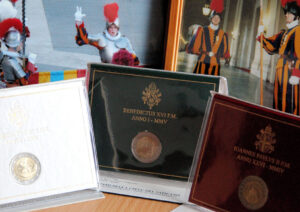 From 2015 on, 2 euro commemorative coins were available in a proof (PR) version, too, bearing the same motif as those in the version brilliant uncirculated (BU). That wasn't a good decision because it resulted in a reduced interest of collectors in BU coins. The prices of such coins range from €30 to €45. From 2016 on, 2 euro commemorative BU coins were constantly on offer for less than €30. That means that it would be inappropriate to speak of an increase in value, because, as you know, the issue price, too, is no longer €11.
Additionally, mailing and packaging costs have increased enormously since then. Another criticism is that – just as it's the case regarding coin sets – the design of the packaging has not been changed since 2002. Even though prices increased, the old plain cardboard folder and the by now colourless case remained. In my opinion, a profound change is long overdue! And they could do a lot about it even without increasing the prices drastically. A glance at this table illustrates the current evolution.
Changes in Prices of Vatican 2 Euro Commemorative Coins 2004–2010
| | | | |
| --- | --- | --- | --- |
| Vatican 2 euro commemorative coins | Issue price | Price 2010  | Price 2019 |
| In card folder 2004 | €11 | €90 | €80 |
| In card folder 2005 | €11 | €160 | €200 |
| In card folder 2006 | €11 | €100 | €165 |
| In card folder 2007 | €14 | €65 | €115 |
| In card folder 2008 | €14 | €60 | €60 |
| In card folder 2009 | €14 | €55 | €55 |
| In card folder 2010 | €14 | €50 | €39 |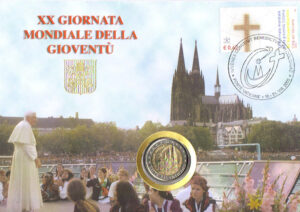 The Numis Covers of the Vatican
The trend in prices of numis covers is shocking regarding certain issues because their prices fell below the issue price. That is certainly not due to the motifs of these issues, the reason is rather that many collectors were only interested in the first issues. At the latest when two numis covers were issues in one year, people lost the interest or gave up. After all, the total sum of 90 euros plus packaging and shipping isn't a bargain. Even though prices have begun to stabilise again since 2015, they are still well below €100. However, the prices of these young numis covers – at least – didn't fall below the issue price. Personally, I think numis covers are a great thing because they combine the fields of philately and numismatics. It's something very special, and I have to admit that the issues from the Vatican are – in my opinion – among the most beautiful ones.
Regarding the price level, the numis cover commemorating the World Youth Day 2005 in Cologne has been at the top from the very beginning, followed immediately by 500 Years of the Papal Swiss Guard from 2006. The numis cover from 2009 is the loser of the competition. Once issued for €45, today (19 December 2019) it is only worth €35 – that's €10 less than its issue price!
If you want to complete your collection and like this collecting area, why not. Since the most recent issues aren't very expensive, it is also a good time to start collecting in this field. However, you should keep in mind the relatively high prices for numis covers in the subscription scheme of the UFN. And even though it is a stamped and postmarked letter with coins in it, it was never really "used"! Let's take a look at the table to get an overview.
Changes in Prices of Vatican Numis Covers 2005–2010
| | | | | |
| --- | --- | --- | --- | --- |
| Vatican numis cover with 2 euro commemorative coin | Issue price | Price 2010  | Price 2019 | Below issue price |
| Numis cover 2005 | €45 | €130 | €175 | X |
| Numis cover 2006 | €45 | €70 | €150 | X |
| Numis cover 2007 | €45 | €50 | €88 | X |
| Numis cover 2008 | €45 | €55 | €40 | €5 |
|  Numis cover 2009 | €45 | €50 | €35 | €10 |
| Numis cover 2010 | €45 | €50 | €49 | X |
Coincards, Stamps and Much More That Isn't of Any Interest to Collectors
So-called coincards or even "stamp & coincards" have no longer the potential to attract collectors. And a 50 cent coin might come from the Vatican and be not that frequent, however, it is not rare either. The mintage hasn't remained at the level of 2002 – is has constantly been increased.
Presumably, this has the sole purpose of marketing the stamp issues, which are quite decorative with their sacred motifs. If there are no customers from the field of philately, numismatists have to fill the void. However, they were already shocked about the first numis cover with an issue price of €45.
With a German pope in the Vatican, numis covers simply had to be successful – at least that's what the UFN thought. However, the plan didn't work out. There has only been a demand for the first three issues, already the fourth numis cover fell rather quickly below its issue price. There's probably nothing more to say about it. In my opinion, issuing an additional 2 euro commemorative proof coin featuring the same motif from 2015 on was a complete mistake. They should have stopped minting the BU version at the same time. The UFN certainly hoped that collectors would buy both versions.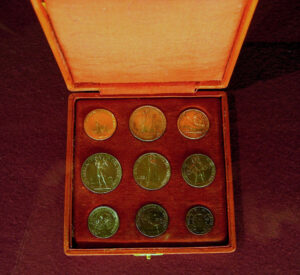 If a collector wants to start collecting in this area, he should consider everything carefully. It is not always about the completeness of a collection field but rather about interesting topics and meaningful motifs. Thus, take your time to choose your favourites and only when you have done so you should start comparing prices. If you only collect what you like and you don't care about the change in price, you cannot make mistakes. However, if you are looking for an item that certainly increases in value, I can recommend the first Vatican coin set from 1929. By now, the set has increased so much in value, that, in the Vatican Museums, it can only be admired in a showcase.
Here you can read part 1 dealing with Vatican euro coin sets.
numiscontrol is our expert for deutsche mark, GRD mark, euro coins and zero euro banknotes. Here you can read his latest article about what the different European starter kits are worth today.
By the way, an updated version of the euro coin catalogue of coins minted between 1999 to 2019 was published recently (in German).
And in our who's who you can find out more about numiscontrol.