[bsa_pro_ad_space id=4]
Part II of the Joe Sedillot Collection at Steve Album
Stephen Album Rare Coins will hold its auction 43 on from 12th to 15th May 2022 at its offices in Santa Rosa, California. The Auction is made up of 3,250 lots of Ancient, Islamic, Chinese, Indian, and General World Coins. The pre-sale estimate is approximately $1.5 million USD, with the final total expected to far exceed that amount.
Featured in the sale is the Joe Sedillot Collection of World Coins (Part II) which includes a wide array of type coins from numerous countries. A large proportion of the coins in the collection are in choice condition and were selected for encapsulation in PCGS holders. Part I was offered in the firm's January 2022 sale and many pieces went for multiple times estimate and some items set new price records. Additional selections from the collection will be offered in subsequent auctions in the second half of 2022.
One notable change the firm has made beginning with their January 2022 auction is that the group/bulk lots are now consolidated at the end of the sale for more convenient locating (see lots 2713 to 3250).
Some highlights from the sale follow: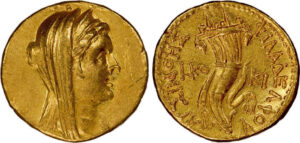 Lot 28: Egypt: Ptolemaic Kingdom. Ptolemy VI Philometor (181/0-145 BC). Octodrachm-mnaieion, Kition (Citium), Cyprus, year 29 (153/2 BC). Struck in the name of the deified Queen Arsinoe II (died 270 BC). Head right with ram's horn, veiled and wearing stephanos, lotus-tipped scepter in background // double cornucopiae bound with fillet, pomegranates and grape clusters hanging from the brim of each horn, date (LKΘ) and mintmark (KI) on either side, APΣINOHΣ ΦIΛAΔEΛΦOY. Light scratches in obverse field, bent and brushed, Strike 5/5, Surface 2/5, NGC graded Choice EF, possibly unique. Estimate: $20,000–25,000.
Lot 186: Georgia. Umayyad Caliphate. 'Abd al-Malik (685-705). Dirham, Tiflis, AH85. Some modest damage near the edge, but all inscriptions are fully legible and the weight is correct for a similarly worn early Umayyad dirham, VF, RRRR. Tiflis is one of the extremely rare Umayyad dirham mints, and is one of the most popular, the first Islamic coin struck in Georgia and in great demand amongst Georgian collectors. There are no examples of this mint on CoinArchives (except the unique piece dated AH86). Estimate: $14,000–16,000.
Lot 715: China. Fukien. Republic. 20 cents, year 21 (1932). Canton Martyrs Commemorative issue with Yellow Flower Mound Mausoleum (Huanghuagang), double die reverse, a fantastic toned example and rarely so nice! PCGS graded MS66, ex Joe Sedillot Collection. This is by far the finest graded example by PCGS or NGC as both have graded only a single coin in MS-64 and none higher. Estimate: $3,000–5,000.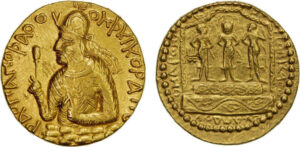 Lot 838: India. Kushan. Huvishka (ca. 155-187 AD). Dinar. Diademed and crowned half-length bust left, with flames above right shoulder, holding mace and ankusa (elephant goad), clouds below, ŞAOhAHOŞAO O-OhŞKI KOŞANO // three nimbate figures standing facing on double dais within ornate aedicule, the central figure crowned, the others with their heads turned toward him, tamgha in inner left field, MA-AC-H-NO BIZAΓO CKANΔO K-OMAPO, Choice AU, RRR, This is the first example of this type to be offered for sale in a public auction. Estimate: $50,000–55,000.
Lot 878: India. Cooch Behar. Nripendra Narayan (1838-1911). Nazarana mohur, CB354 (1864). sri sri / siva char(ana) / kamala mad / huka(asya) in Bengali; pellet within crescent after legend; all within linear quadrate border with floral ornaments at corners; additional floral ornaments in external voids; all within border of alternating dentils and pellets // sri sri / nripendra / nara / yana / san 354 sake in Bengali; floral ornaments flanking sri sri, a lovely toned lustrous nearly mint state example! PCGS graded AU58, RRR. Estimate: $10,000–15,000.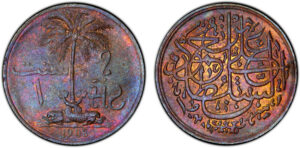 Lot 1476: Zanzibar. Sultan Ali Bin Hamud (1902-1911). Cent, 1908. Ruler's name and titles in ornate Arabic calligraphy // Palm tree; dragon-headed sea monsters entwined at base, denominations in Arabic and Gujarati, a very rare one-year type, a beautifully toned mint state example! PCGS graded MS64 BN, RR, ex Joe Sedillot Collection. According to James Sweeny, none of the bronze decimal series of 1908 were released to circulation. Remick has stated that no more than 20 to 60 pieces of each type exist, with other sources reporting only 20-30 pieces of this type surviving. This example is tied for finest graded by PCGS! Estimate: $3,000–4,000.
SARC Chief Operations Officer Mike Barry commented: "The Joe Sedillot Collection attracted many bidders to our January auction. We expect the same excitement from bidders for the lots featured in the May auction. This sale is likely to be one of our best yet with high quality items from across all categories. We have been making an effort to build sales that have quality coins that appeal to collectors of all levels. Whether you are looking to spend a few hundred dollars or a much larger sum there is something here for everyone."
To view all lots of the auction 43 in the online catalog.
More information can be found on Stephen Album Rare Coins website.