[bsa_pro_ad_space id=4]
Islamic and Chinese Rarities at Stephen Album
Stephen Album Rare Coins will hold its Auction 37 on June 11-14, 2020 at its offices in Santa Rosa, California. The auction is made up of 3,750 lots of Ancient, Islamic, Chinese, General World, and Indian Coins, and includes 231 lots of Numismatic Literature, including selections from the H. F. Bowker Numismatic Library. Featured collections in this sale include the Gamal Amer Collection of Egyptian Coins, the Ahmed Sultan Collection of Ottoman Coins (Part II), the Christian Rasmussen Collection of Ilkhan Coins (Part III), and the Dr. Wolfgang Schuster Collection of Nepal, Bhutan, and Netherlands East Indies Coins. The final two days will be comprised of 2 Internet-Only Sessions of lesser-priced material. Some highlights from the sale follow: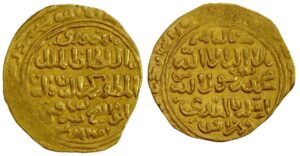 Lot 456. Bahri Mamluk: Baybars II, 1309-1310, gold dinar (4.61g), al-Qahira, DM, A-V916, with his slightly longer titulature al-sultan al-malik al-muzaffar rukn al-dunya wa'l-din abu'l-fath baybars qasim amir al-mu'minin al-mansuri filling the obverse field; this piece and the following lot are the only known gold coins of Baybars II of the al-Qahira mint (a third example was later discovered, but of the Dimashq mint, which appeared in St. James Auction 39, Lot 1113), EF, RRRR ex Gamal Amer Collection, ex Morton & Eden Auction, 23 April 2015, Lot 136. Estimated at $8,000 – 10,000.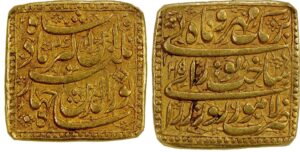 Lot 1066. Mughal: Jahangir, 1605-1628, gold square heavy mohur, Lahore, AH1015 year 2, KM-184.1, BMC-293 (1015 year 1) & 294 (1016 year 3), special presentation type from the early part of Jahangir's reign, obverse legend his full name & patronymic shah nur al-din jahangir ebn akbar padshah, and the regnal year "2"; reverse legend ruy-e zar-ra sakht nurani be-rang-e mehr o mah, "he made the face of money to shine with hues of the sun and moon", and the mint formula zarb Lahore, NGC graded AU55. Estimated at $14,000 – 16,000.
Lot 1333. British India: gold medal (62.01g), 1928, Pud-948.7.1, 51mm gold medal, woman seated in sari, sketching, looking over Bombay harbor scene, BOMBAY ART SOCIETY above, geometrical patterns in exergue // Gateway of India at center with VRBS PRIMA / IN INDIS (First City in India) around, on edge, ETHEL GERTRUDE MACMILLAN / AWARDED 1928, and 18CT stamp with hallmark, struck at the Bombay Mint, EF, RRR. Estimated at $7,000 – 9,000.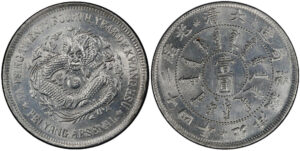 Lot 1462. Chihli: Kuang Hsu, 1875-1908, silver dollar, Peiyang Arsenal mint, Tientsin, year 24 (1898), Y-65.2, L&M-449, dragon eyes in relief, a superb quality example with bright white original mint luster, a superb example! PCGS graded MS63. Estimated at $15,000 – 20,000.
Lot 1448. China: Republic, silver dollar, year 10 (1921), Kann-676a, L&M-957, Hsu Shih-chang "Pavilion" type, plain edge without bottom legend variety, hand engraved DR. R. G. MILLS on reverse, PCGS graded AU details, RR. This type was issued to commemorate the succession of Hsu Shih-chang to the office of President in 1918, and in celebration of his 67th birthday. Estimated at $7,000 – 9,000.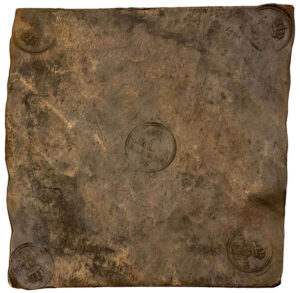 Lot 1872. Sweden: Ulrika Eleonora, 1718-1720, AE 4 daler, Avesta, 1719, KM-PM62, type II "plate money", corner stamps: crowned Queen's monogram dividing date, and center stamp: 4 DALER SILF: MYNT above pair of crossed arrows, some minor weakness of strike, but otherwise a superb example of this rare large type! EF, RR. Estimated at $4,000 – 6,000.
Lot 3607. Literature: Lane-Poole, Stanley, Catalog of Oriental Coins in the British Museum: Ten Volume Set, Originally published by the British Museum, London, 1875-1890, reprinted by Forni Editore, Bologna, 1967, all hardcover. Each volume includes historical and numismatic overviews. The corpus itself includes complete Arabic legends written out. Each volume has numerous indexes to legends, mints, rulers, etc. (See online description for highly detailed information about each volume). Complete set of 10 volumes, ex. Jim Farr Numismatic Library. Estimated at $500 – 700.
All lots of the auction can be viewed on the Stephen Album Rare Coins homepage, as well as on Sixbid, Numisbids and Biddr.