[bsa_pro_ad_space id=4]
Steve Album Auction Realizes $2.6 Million
Stephen Album Rare Coins held its Auction 42 from 20th-23rd January 2022 at its offices in Santa Rosa, California. The prices realized were yet another new record for the company coming in at $2.63 million (including buyer's fees) with a sell-through rate of 97.4%. Some sections such as the Chinese coins achieved a nearly 100% sell-through rate.
Many items went for multiples of their estimates, including some world record results. Several collections helped achieve those totals, namely the Joe Sedillot Collection of World Coins, Part I, and the Charles Opitz Collection of Ethnographic Money, Part III.
A selection of highlights follows (prices include buyer's fees):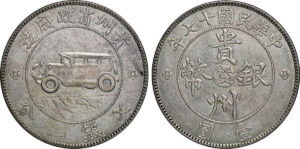 Lot 728: China. Kweichow: Republic, AR dollar, year 17 (1928). "auto dollar" type, variety with three grass blades, a bold lustrous strike! NGC graded AU53. Estimate: $30,000-$40,000. Realized: $192,000.
Lot 711: China. Kwangtung. Kuang Hsu (1875-1908), AR 50 cents, ND (1890-1905). A lovely lustrous mint state quality example! PCGS graded MS63, ex Joe Sedillot Collection. Estimate: $10,000-$15,000. Realized: $31,200.
Lot 1070: World. Philippines. Fernando VII (1808-1833). AR 8 reales, ND [1832-34]. Assayer JM, countermarked crowned F.7o on Mexico 1824-Mo mint "Águila de perfil" or "Hookneck" type 8 reales, PCGS graded EF40. Estimate: $400-$600. Realized: $24,000.
Lot 1024: World. Korea. Kwang Mu (1897-1907). AR yang, year 2 (1898). Interesting obverse die crack, a wonderful lustrous example! PCGS graded MS64, ex Joe Sedillot Collection. Estimate: $200-$300. Realized: $18,000.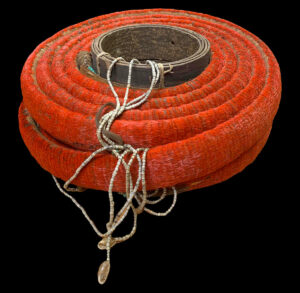 Lot 1721: Ethnographic. Solomon Islands. Santa Cruz Islands, feather coil money (3,519g), 19th to early 20th century. Rolled into a 5-layered double-row coil ca. 35cm in diameter, fully intact and covered in scarlet feathers, decorated with strings of coix seed money and shells, a first-grade example (#1) in the traditional 10-tiered system and a superb specimen, Unc, RRR, ex Charles Opitz Collection. Estimate: $4,000-$6,000. Realized: $18,000.
Lot 491: India: British India. Victoria, Queen (1837-1876), AV mohur, 1841(b&c). East India Company issue, continuous legend, no initial on truncation, large date with crosslet 4, a very attractive mint state example, PCGS graded MS61. Estimate: $4,000-$5,000. Realized: $13,200.
Lot 45: Ancient. Siculo-Punic. AR tetradrachm, "People of the camp" mint, circa 320-300 BC. Head of Arethusa/Tanit left, wearing barley wreath and earring, four dolphins around, small shell below chin // head of horse left, palm tree with dates behind, Phoenician 'MMHNT (mintname) below truncation, light hairlines, some edge marks, bold VF. Estimate: $1,000-$1,500. Realized: $11,400.
Lot 254: Islamic. Seljuq Of Rum. Kayqubad I (1219-1236), AV dinar, NM. Central double circle on both sides, royal legend fills both the center and margin of the obverse; the Abbasid caliph al-Mustansir cited in the margin and the date in words in the center on the reverse, minor waviness on the surfaces, fully legible legends on both sides, of the highest rarity, VF, RRRR. Estimate: $1,800-$2,400. Realized: $10,200.
All results can also be viewed in the online catalog.
The firm is soon publishing an internet auction for 7th-8th March 2022, which will feature 2,000 lots of a wide variety of all categories. They are also seeking consignments for their premier sale Auction 43, which will be held 12th-15th May 2022. For more information, please visit Steve Album's website.