[bsa_pro_ad_space id=4]
Steve Album's Internet Auction 18
Stephen Album Rare Coins will hold its Internet Auction 18 at its offices in Santa Rosa, California on November 7-8, 2022. Internet pre-bidding has already begun and can be accessed through the auction house's website. The Auction is made up of 2,000 lots of coins from all categories and time periods. There is a wide range of value in the sale including items from $50 all the way up to $12,000 for a rare British Indian rupee dated 1939. Additional highlights include rare proofs of British India, difficult to find medieval Islamic rarities as well as general worldwide A-Z collector coins in choice condition. Some highlights of the sale follow: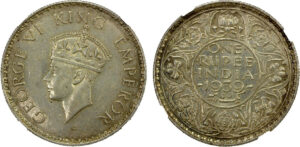 LOT 979: British India. George VI (1936-1947). AR rupee, 1939(b), KM-555, small lamination error on obverse, a lustrous attractive example of a very rare date! NGC graded AU58. Estimate: $10,000 to $12,000.
LOT 925: British India. Victoria (Empress, 1876-1901). AR ½ rupee, 1897-B, KM-491, hint of 7/6 overdate, a lovely early restrike quality example! NGC graded Proof 63, ex David Fore Collection. Estimate: $2,400 to $2,600.
Lot 974: British India. George VI (1936-1947). AR rupee, 1938(c), KM-555, an attractive lustrous proof restrike example! NGC graded Proof 61. Estimate: $2,200 to $2,400.
Lot 1340: Kiauchau. 10 pfennig, ND (1910), Menzel-4287.1.2, nickel-plated brass token, uniformed bust of Friedrich Wilhelm Voigt, the "Captain of Köpenick", facing forward // initials P.H. at center, WERT-MARKE 10 PFG. around, light oxidation spots, AU. Estimate: $400 to $600.
Lot 1254: Fukien: Republic, AR 20 cents, CD1923, Y-381, L&M-304, Flags of the Xinhai Revolution; Wuchang Uprising, Five-colored and Tongmenghui flags, a wonderful mint state example! PCGS graded MS64. Estimate: $300 to $400.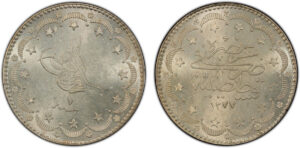 Lot 1426: Turkey. Abdul Aziz (1861-1876). AR 20 kurush, Kostantiniye, AH1277 year 7, KM-693, a lovely lustrous example! PCGS graded MS63. Estimate: $300 to $500.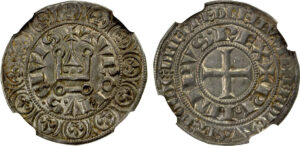 Lot 1706: France. Philippe III (1270-1285). AR gros tournois (4.1g), ND, Duplessy-202, Ciani-188, central cross within inner circle with PhILIPVS REX around, all within second circle with +BNDICTV SIT NOME DNI nRI DEI HV XPI around // +TVRONVS CIVIS around building, all within inner circle with 12 lis around, bold strike, absolutely lovely toning, a likely candidate for upgrade to mint state, NGC graded AU58. Estimate: $250 to $350.
View all lots of the auction in the online catalog.
The firm is now taking consignments for future internet and premier sales. More information can be found on their website.