[bsa_pro_ad_space id=4]
The Money Museum operated by the American Numismatic Association presents a virtual exhibition, "Coins, Crown & Conflict: An Exploration of Cromwell's England" – originally displayed in 2007-08. The popular exhibition was based on the history of the English Civil Wars and featured some of the great rarities of English coins (including the Petition Crown), as well as a number of early American coins.
The exhibition probes the period starting with the reign of Charles I and the English Civil Wars to the first years of the restored British monarchy under Charles II, through the coins, medals, people and objects associated with Oliver Cromwell. Included in this display is the Geoffrey Cope Collection, one of the finest collections of coins from this period, to help tell the story of this turbulent time in English history.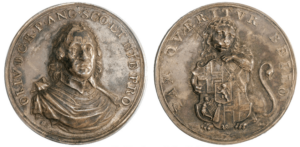 The Money Museum has reopened to the public after being closed due to COVID-19. But for those that may not be able to visit in person, the museum offers a number of other virtual exhibition:
Included in the online Museum features is a virtual collection of the Museum's inventory that can be perused for research purposes or to see aspects of the Museum collection that are not on display. The Museum blog, "Tales from the Vault" shares captivating stories about pieces in the vault, such as Wilbur Wright's numismatic collection, California National bank notes, hard times tokens and more.
For more information on the museum visit the ANA-website.
There you can visit the exhibition "Coins, Crown and Confict".