[bsa_pro_ad_space id=4]
Obolos 23 Now Online!
Why haven't you heard from us for so long? Well, there have actually been several good reasons, primarily the rush to send off the successful purchases of the many active buyers in our wildly successful Nomos 24, as well as the excitement caused by the other auctions held in Zürich, those of Numismatica Ars Classica, which took place on 30 and 31 May, and Hess-Divo, which took place on 1 June. Like our wonderful results, those of our colleagues were simply fantastic! I was there when the great battle over the Brutus Aureus took place (lot 474 in NAC 132, estimated at 750,000 CHF): floor bidders, internet bidders, telephone bidders, the atmosphere was electric and it finally sold for 2,200,000 CHF! Wow!! And all sorts of coins just took off like rockets! The atmosphere was positive and enthusiastic – though so many people with good bids got nothing – and it just showed how healthy the coin market is in these uncertain times. It was a similar story for the ancient coins from an old Swiss collection at Hess-Divo (so ably catalogued by H. Voegtli). We mention this here because a healthy, confident and optimistic market is a good market for everyone!
So now, while we are all feeling healthy, confident and optimistic about coins – though often a bit sad because of all the coins we didn't get! – let's take a look at some of the coins in Obolos 22.
First a rather necessary bit of errata. This concerns some of the coins in the J.-P. Righetti collection of Alexandrian issues. One of JPR's many talents is that he is both a careful and enthusiastic cleaner of coins. He loves taking what seems to be a shapeless lump of corrosion and carefully working on it until, out of the "mists of time", a coin appears and is returned to the state it was in when it went into the ground. In the process he has left his working traces (rather than disguising them by recoloring or repatinating them). By an oversight, the JPR coins in this Obolos 23, which show traces of cleaning, were not mentioned as such (though they can be clearly seen in the photographs). To be accurate, the lot numbers of all such coins are noted here: 2, 4, 5-8, 13, 15-22, 25, 27-29, 34-35, 45-48, 50-57, 63, 65, 70, 76-80, 82-84, 86, 94, 102.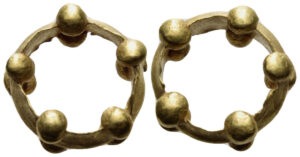 Here is a piece of gold money that I have always liked: lot 105 (Starting price: 400 CHF), a Celtic piece of "ring money" probably ascribable to the Ambiani. It goes back to a German sale of 2010 and is a really enjoyable piece!
A rare little bronze coin was minted in Alopekonnesos, which means Fox Island (lot 197, Starting price: 50 CHF). Thus, the fox on the reverse. In our modern times you would think a name like that would be used for a risqué game show on TV!!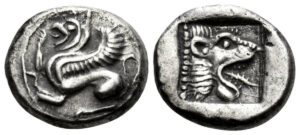 Aren't these coins terrific!? Obolos offers three early 5th century BC drachms from Assos, 421 and 423 with SPs of 200 CHF, and 422 with an SP of 250. The griffin is rudely powerful and the lion not one you would want to meet! What extraordinary coins they are!
Lot 437 (Starting price: 60 CHF) is from the obscure Aeolian city of Larissa Phrikonis. It is seemingly the third and the best example known of a very rare issue (two other rather ratty examples have appeared in trade). It was probably struck at some point in the mid 4th century BC.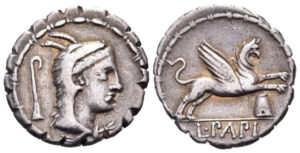 This is one of those fascinating denarii of L. Papius; they are fascinating because of the amazing pairs of symbols they bear (lot 680, Starting price: 100 CHF). Since our esteemed cataloguer believes in making collectors do their homework, he did not bother to explain what the symbols on this coin are, but I'm nicer. The moneyers responsible for the issues of L. Papius wanted to have a very careful control system for the dies used and decided to ensure that they had to be in fixed pairs. Thus, they had to figure out related pairs of symbols to appear on them: you could have a helmet on one side and a cuirass on the other; or a trident and an octopus; or a bee and a flower. What we have is a more complicated pair: on the obverse is a long handled baker's peel or paddle (used for moving loaves of bread into, and out of, an oven); and on the reverse, there is the oven! This pair is clearly related to daily life. The next pair, on a rather circulated denarius of L. Roscius Fabatus, refers to the world of myth.
Lot 681, a Republican denarius shows us the head of the Medusa on the reverse. We might expect to see the curved sword Perseus used to decapitate her on the obverse, or perhaps the polished shield he used to avoid looking at her, or his winged sandals. That would be an obvious pair. However, what we see here is the forepart of Pegasos! Why? Well, to ancient viewers familiar with the myth it would be obvious: when the Medusa's head fell from her shoulders she was pregnant with two offspring of Poseidon's. One was the warrior Chrysaor and the other was, as we see here, Pegasos (lot 681, Starting price: 60 CHF)!
View all lots of Obolos 23 in the online catalog.
For further information about the auction house, visit the Nomos website.