[bsa_pro_ad_space id=4]
Obolos 25: From Celtic Coins to Seals
When the Polybahn in Zurich is crowded with students again and the temperature slowly drops, then the experienced coin collectors and their dealers know: Coin Season has started again! After a summer spent on the beaches and in the old towns of countries where most of our classical objects of desire were minted, it is back to chasing rare and beautiful coins in auctions and at fairs.
Here at Nomos we start the season with a double-bang. Our twenty-fifth obolos auction will close on 23rd October 2022, starting at 14:00 CEST live on our webpage. This time the sale includes 999 lots, ranging from Celtic to modern coins and seals.
Only a few weeks later our high-profile nomos 25 auction will take place on 20th November 2022. Alan Walker, our experienced master of ceremonies and seasoned auctioneer, will be in contact with you in due course with more details and highlights. Not only in timing but also in quality Obolos 25 is the vanguard of nomos 25! Let me introduce you to some of the outstanding coins in this sale.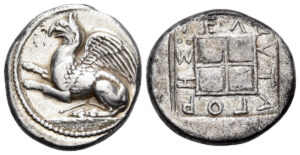 Lot 71: A tetradrachm from Abdera with its distinctive fierce griffin on the obverse is certainly a highlight in every collection. Especially when it was issued under the supervision of a hitherto unpublished magistrate! As griffins should never be kept in solitary confinement, there is a second tetradrachm from the same city, albeit by another magistrate, in our selection for Obolos 25.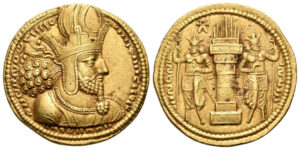 Lot 426 – This beautifully preserved golden dinar of Shapur I, the second Sasanian king of Persia, is a fitting tribute to the golden boy of Iranian history. After forcing the Roman Emperor Philip the Arab to agree to a humiliating peace treaty, he even defeated and captured Emperor Valerian, one of his successors. Quite rightly he was the first Iranian ruler to use the title of "King of Kings of Iranians and non-Iranians".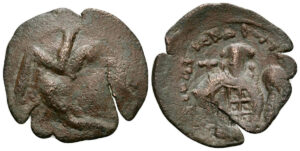 Lot 865 – This extremely rare or possibly unique assarion by Andronicus III Palaeologus is one of many – often extremely well preserved and nicely coloured – late Byzantine bronze issues in obolos 25. We believe that the lots on offer are an unmissable opportunity for specialized connoisseurs to fill some longstanding gaps in their collections.
Here you can find the complete online auction catalogue of Obolos 25.
For further information, visit the Nomos AG website.