[bsa_pro_ad_space id=4]
Numismatic Literature Sale with Rarities at Solidus
On 12th September 2021 Solidus auctioneers in the Literature-Auction selected numismatic literature with many rarities and bibliophilic treasures of the 17th and 18th century including large quantities of the library of Günther Hofmann – furthermore some numismatic graphics and publications concerning archeology and history.
Some Highlights of the Auction: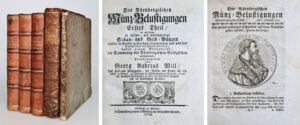 Among the 94 Bibliophile Books are numerous editions of different 18th century "Münzbelustigungen." Lot 88 deserves special mention, a complete edition of Will's "Nürnbergische Münzbelustigungen", which also includes the rare fourth volume as well as the even rarer register volume. Lot 77 offers the complete edition of all five partial volumes of the "Brandenburgische Historische Münzbelustigungen" by Spieß. In several single lots, a total of 17 different volumes of Köhler's "Münzbelustigungen" are on offer.
Other rare and richly illustrated books include a very well-preserved edition of the "New Müntz Buech" by Adam Berg, published in Munich in 1597 (Lot 9), a four-volume edition of the "Beschryving der Nederlandsche Historiepenningen" by Loon (Lot 57), or the rare "Thesaurus Numismatum" by Negelein and Körnlein (Lot 65).
The chapter General Numismatics contains some useful and informative standard works at quite moderate starting prices (51 Lots).
Ancient Numismatics is represented by a larger selection of standard works (246 Lots). Noteworthy is the rare Collection de Luynes edited by Babelon (Lot 166).
The largest section is numismatic literature on the Middle Ages and Modern Times with 582 Lots. Among them are important works by renowned numismatists such as Bahrfeld (Lots 407 – 414) and Noss (Lots 779 – 782), rare works such as the "Numismatique de l'Alsace" by Engel and Lehr (Lot 527) or the catalog of the die collection of the main mint office in Vienna by Fiala (Lot 541), as well as some splendid editions: e.g. the complete original edition of "Die Deutschen Schaumünzen" by Habich (Lot 592) or the "Gleiwitzer Eisenkunstguss" by Hintze (Lot 626).
This section is followed by Festschriften and Journals, among the latter respectable partial series of the renowned "Revue Belge de Numismatique" (Lots 1069 and 1070) as well as numerous rare and sought-after individual volumes of different journals.
Auction catalogues are represented from the early issues of the 19th century to present date, sometimes in entire series, including particular rarities. Many attractive catalogues of renowned auction houses from the time before 1945 are on offer (e.g. Cahn, Helbing, Rosenberg). Remarkable are: Lots 1143 and 1144 (Auctions 39 and 40 of the Egger brothers from Vienna on Ancient Numismatics), Lot 1396 (Roman and Byzantine gold coins of the collection Vicomte de Ponton d'Amécourt from 1887) and Lot 1493 (compilation with 6 catalogues of the Montagu Collection, auctioned between 1895 and 1897 at Sotheby's).
The catalogue is rounded off by a short concluding chapter on Archaeology, History, Graphics.
You can place your maximum bids before the auction – or during the live auction, where you can bid on the lots in real time, similar to a floor auction, and thus actively influence the auction. The live auction starts on Sunday, 12 September 2021 at 10:00 am CEST. Please register by Friday, 10 September at 1:00 pm CEST.
You can reach the literature auction on the platform Auex and on Sixbid.
For further information, visit the website of Solidus Numismatik.