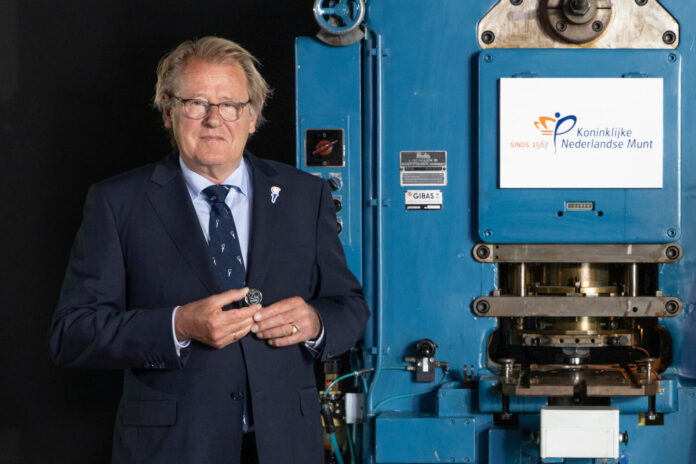 [bsa_pro_ad_space id=4]
Jaap Smit, Deputy Chairman of the National Committee for 4 and 5 May, performed the ceremonial First Strike of the 75 years of freedom 5 euro coin in the new Royal Dutch Mint building in Houten (the Netherlands), where the Royal Dutch Mint moved in April 2020.
The piece is the first commemorative coin of 2020 and is commissioned by the Dutch Ministry of Finance. Due to the current circumstances, no audience could be present at the ceremonial First Strike. Because of that, the Royal Dutch Mint broadcast a livestream on 5 May, 11:00 a.m. (CEST):
Connection in Times of Distance
Mint Master Stephan Satijn hosted the ceremony. In the livestream, which is accessible to the whole world because of the English subtitles, these speakers appeared: Hans Vijlbrief, State Secretary for Finance – Tax Affairs and the Tax Administration; René Hooft Graafland, chairman of the National Committee for 4 and 5 May and Marijke van Warmerdam, artist. The Royal Dutch Mint broadcast this livestream so all interested parties could watch the ceremonial First Strike at the same time and still feel connected.
The 75 Years of Freedom Issues
The 75 years of freedom 5 euro coin is designed by Dutch artist Marijke van Warmerdam, who also designed the Dutch Aviation commemorative coin. Van Warmerdam incorporated a jaunty ribbon on the obverse and reverse of the coin to show the festive atmosphere at the time of the liberation. The 75 years of freedom 5 euro coin is available in different qualities. The Royal Dutch Mint has also launched the traditional golden 10 euro coin, a special jewel and the coin set "Europe Remembers" in collaboration with Royal Leerdam Crystal. In this special set the commemorative coins for 75 years of freedom by the Netherlands, the United Kingdom and Canada are brought together by the Royal Dutch Mint.
Here you can find all 75 years of freedom issues.
CoinsWeekly reported about Stephan Satijn, who hosted the ceremony, when we was appointed Royal Dutch Mint Master in 2017.
All commemorative coins of the Royal Dutch Mint can be found here.
And, of course, you can find additional information on the website of the Royal Dutch Mint.