[bsa_pro_ad_space id=4]
Neddy Allen's Stock Highlighting "Medallion Sale" at Baldwin's of St. James's
The forthcoming "Medallion Sale" to be held by Baldwin's of St. James's is to be a timed auction ending on Wednesday 18th November. The 484 lot sale will include the remaining stock of Mrs. Irene [Neddy] Allen (1928-2020), which is to be sold on behalf of several animal-related charities of her selection. Mrs. Allen began dealing in medallions in the mid 1960's, then working with her husband Peter [Maundy] Allen. Over the years she built up a devoted band of collectors and though the last decade of her life was blighted by blindness she continued to deal, relying on her extensive knowledge and an acute sense of touch by which she could tell the quality of the medals she bought and sold.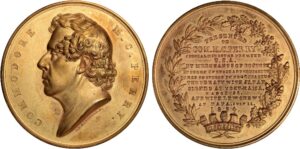 Among the highlights is a gilt-bronze striking of the medal commemorating the visit of Commodore Matthew Calbraith Perry to Japan in 1853-54. The unique gold example presented to Perry in gold by the Merchants of Boston, was sold at auction in 2007, in Rockland, Maine, for $165,000. This gilt specimen is expected to realise £400-500.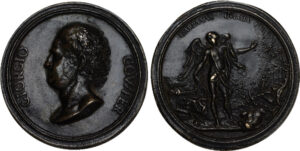 Another is a splendid baroque portrait medal, c. 1780, of George Nassau Clavering-Cowper, 3rd Earl Cowper (1738–1789), by Giovanni Zanobi Weber (1737?-1808). Cowper inherited his earldom in 1764 and, in 1775, married the sixteen-year-old Hannah Anne Gore, daughter of Charles Gore, but today he is remembered as an art collector and connoisseur.
You can find the online catalogue here.