[bsa_pro_ad_space id=4]
Baldwin's of St. James's Sells Special Collection of Medals Reflecting upon George IV
Baldwin's of St. James's auction on Wednesday 25 March is to include the 197 lot Pavilion Collection of Medals Reflecting upon the Life and Times of George IV, which has been formed over the last twenty years or so. The collection is impressive for the sheer number of medals that have been acquired and it charts the King's life from his birth to his death. The sale is timed to celebrate the 200th anniversary of the accession of George IV in 1820.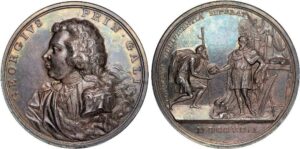 There are a number of great rarities as well as many unusual pieces but the charm of the collection as a whole is its completeness. One forgets that as a young man and at the time of his marriage to Caroline of Brunswick he was splendidly handsome (see lots 437 – £600-700; 440 – £150-250). Caroline of Brunswick features too, with medals relating to her trial and death (lots 503 – £60-80; 508 – £600-700). As well as medals for the death of their daughter Princess Charlotte in 1817, there are the actual dies for one of them (lot 472 – £150-200), which were discovered in the 1960s being used as paperweights in the post-room at Sotheby's in London!
Whilst the sale is almost exclusively medallic, there is a small bronze bust after Sir Francis Chantrey, from the collection of Ralph Holland (lot 481 – £300-400) and a gold brooch set with a Tassie cameo portrait (lot 482 – £1500-2000). There are multiple lots of Coronation medals including the official medal in gold (lot 519 – £3500-4500). The King's visits to Ireland, Hanover and Scotland are all commemorated with many medals. The Royal Pavilion in Brighton, from which the collection gets its name, is only commemorated on a later (1832), though fine, architectural medal (lot 500 – £100-150), but there is a contemporary medal for the construction of the Chain Pier in Brighton (lot 585).
His love of the military and interest in Napoleon feature with a complete set of James Mudie's 'Grand Series of National Medals' (40 medals, published in 1820), contained in a book-type library case, with its companion printed history (lot 501 £3000-3500) and there is an example of Benedetto Pistrucci's famous Waterloo Medal (lot 464 -£600-800).
It is a sale that complements the Art & Spectacle exhibition now on display at Buckingham Palace, and since the exhibition did not feature medals, this catalogue seeks to rectify the omission. Stephen Fenton remarks that it is 'the first such specialist collection of George IV to be offered in the market, a collection as much for history lovers as for numismatists and with a catalogue whose entries are filled with information'.
For further details go to the Baldwin's of St. James's website.
There you can find a PDF catalogue of the sale.
The online catalogue is also available on Sixbid.