[bsa_pro_ad_space id=4]
Naville Numismatics Live Auction 65
Naville Numismatics presents its Live Auction 65. The auction will close on Sunday 30th May 2021, 16.00 UK time, at which time the live session will begin. Absentee bidders can bid electronically through Naville Numismatics website from the day the sale is published online up to the start of the live session. The auction features a selection of 748 lots of Greek, Roman, Byzantine coins, all chosen with contribution from NAC's experts.
To minimize the disruption caused by Brexit, Naville Numismatics announces the recent opening of NAC new office in Brussels. From now on, they ask all European Clients who prefer to receive their auction purchases directly from within Europe, to inform them, when registering for the sale, that they would like to place their bids through NAC Europe Srl. This company will represent any registered clients by proxy at the auctions, without applying any additional charges other than shipping costs (within Europe), and the Belgian Import VAT from outside EU, which is set at 6%. The sale includes a selection of coins, including bronzes and fractions, from Magna Graecia, Sicily and Greece, some of them from the E.E. Clain-Stefanelli collection sold in association with Stacks Bowers Galleries.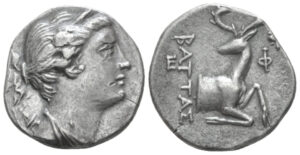 This first section of the sale starts with an attractive series of rare and beautiful coins such as Cales, Neapolis, Tarentum, Heraclea, Metapontum, Croton, Petelia, Agrigentum, Camarina, Panormus, Syracuse and Athens, even beyond a series of coins from the BCD duplicates and a selection of specimens depicting Hellenistic portraits of Seleucid. Noteworthy in this section are a beautiful stater of Lysimachus and a rare stater of Ephesus.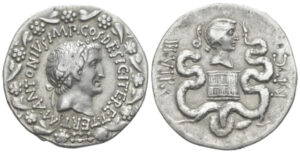 The Roman selection boasts an interesting series of Roman Republican bronzes and a striking array of denarii. This includes a good denarius of C. Allius, a well struck of C. Cassius, a scarce denarius of Cn. Cornelius Lentulus, a scarce denarius of Q. Pomponius Musa, a well struck denarius of C. Vibius C.f. Cn. Pansa Caetronianus, a beautiful bronze of Octavian, a rare cistophoric tetradrachm of Marcus Antonius. In this part, there is also an interesting selection of Republican portraits such as I. Caesar, Octavian and Marcus Antonius.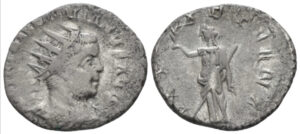 The Imperial selection of the sale features an attractive series of Augustus and an attractive selection of Roman bronzes and denarii such as an as of Tiberius, a denarius of Caligula, a sestertius of Claudius, a denarius of Otho, a sestertius of Hadrian (Ex NAC sale 52, 1091), a sestertius of Antoninus Pius, a beautiful denarius of Pescennius Niger, a rare antoninianus of Vabalathus and a beautiful antoninianus of Maxiamianus Herculius (Ex Tkalec sale 28 February 2013, 190) even beyond an interesting selection of Denari, Antoniniani, Sesterti, Dupondi, Asses and Folles. Very remarkable in this part are an aureus Antoninus Pius, a rare aureus of Commodus and an extremely rare antoninianus of Pacatian (Ex Gemini sale V, 2010, 548). The Roman Provincial part of the sale includes a selection from the Dattari Collection.
Naville Numismatics Ltd.'s partnership with NAC guarantees highly professional numismatic service and certifies an unlimited warranty of authenticity for the lots it sells. If you have not already done so, please register as a member on their website. During the Live session you can see current lots and bid in real time, making it an easy and fast way to participate in the auction.
Should you have any questions, please call Naville Numismatics at +442033028770 or send an email.
View all lots and the recent bids at Naville Numismatics website.