[bsa_pro_ad_space id=4]
Discover Bucks Museum present their new Discover Bucks Galleries launched on 2nd April 2022. These five brand new galleries tell the story of Bucks people and landscapes from 200 million years ago to today featuring star objects from the Museum collections.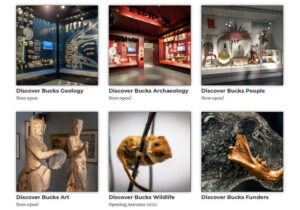 Discover Bucks Geology
Your journey starts 200 million years ago in the Discover Bucks Geology gallery, where fossils reveal the prehistoric creatures that swam in the Jurassic seas, including ferocious sea monsters, and the giant Woolly mammoths that lived here during the Ice Age.
Discover Bucks Archaeology
In the Discover Bucks Archaeology gallery meet the earliest people to arrive in Bucks, discover a spectacular 3000-year-old sword, the first named woman in Bucks from Roman times, one of the largest hoards of Anglo-Saxon coins ever found with coins of Aethelred the Unready and Cnut the Great and the bones of a Saxon "Princess" who was really a noblewoman from Aston Clinton. Explore the amazing Lenborough Hoard display, and the story of the forgotten invasion of England in 1016 by the Viking King Cnut. How do 5,000 Anglo-Saxon silver coins, hidden in a field near Buckingham, tell the story of 1000 year old conflict between Vikings and Saxons? Find out about archaeology today and what has been discovered recently. Every object on display was once important to someone. They may have made, used or treasured it – each is a personal window into the past.
Discover Bucks People
The Discover Bucks People gallery brings you into more recent history and up to the present day and features a spectacular costume case displaying a Sikh bridal suit, an extraordinary piano with a harp on top called a Euphonicon from Claydon House and a carefully conserved section of Chinese wallpaper from Hampden House. Fascinating objects tell stories about people from different communities and video screens display 120 photos of Bucks people past and present celebrating their contribution and diversity.
Discover Bucks Art
Discover Bucks Art gallery tells a unique visual story of Bucks through artists past and present, including portraits of a Victorian jury, Aylesbury MP John Wilkes, to the magnificent Stowe statues of Saxon gods, and contemporary works, such as LGBTrees by a local artist from the LGBTQ community.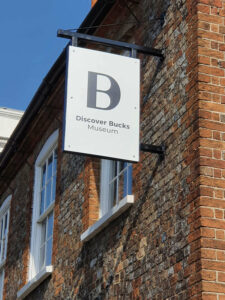 Discover Bucks Wildlife
The Discover Bucks Wildlife gallery will be completed over the summer and open later 2022 but already features an intriguing Black Poplar Tree replica cast from a tree in Vale Park, Aylesbury, in which you can find birds and insects if you look hard enough!
The Launch Day was a lively and special event to mark this historic day. The curatorial team of experts demonstrated the collections with handling objects and helped visitors explore the stunning new displays. There was a Bronze Age re-enactor working on a bronze age sword to guide you through prehistory exhibits.
Take part in art activities celebrating the 50th anniversary of the Paralympic Games and see the fabulous headdress from the 2012 Opening Ceremony on display, as well as the intricate motifs on the restored Chinese wallpaper from Hampden House.
Museum Director Sue Shave said, "We are immensely proud of these new galleries, which are an incredible achievement during a worldwide pandemic, and made possible by our dedicated staff, volunteers, Friends and Patrons and our local communities. These stunning new displays will transform the Museum experience for everyone and provide a platform for new programmes for families, adults and schools around themes provided by the inspiration from the star objects on display. This is the day that we have all been waiting for – to see a museum that is more reflective of our communities and their stories and showcases the beautiful and unique landscapes and heritage of the County."
Visit the website for Discover Bucks Museum opening times and ticket prices.
The famous Lenborough Hoard is one of the largest hoards of Anglo Saxon coins and was discovered in 2014.