[bsa_pro_ad_space id=4]
Sean Connery was the first actor to play fictional British Secret Service agent James Bond on the big screen. Chosen for the role by producers Cubby Broccoli and Harry Saltzman, who acquired the rights to Ian Fleming's Bond novels in 1961, his powerful portrayal in Dr. No immediately established the charismatic operative also known as 007 as one of cinema's most recognizable characters.
Connery's style, grace and magnetism made a huge contribution to the success of subsequent films, including From Russia With Love, Goldfinger, Thunderball, You Only Live Twice and Diamonds Are Forever. Followed by five other actors, who each brought their own unique perspective to the character, this coin celebrates Connery as the first, and for many fans, the quintessential Bond. Struck by The Perth Mint from 1oz of 99.99% pure silver, the coin is issued as legal tender under the authority of the Government of Tuvalu. The Perth Mint will release no more than 5,000 of the James Bond Legacy Series – 1st Issue 2021 1oz Silver Proof Colored Coin.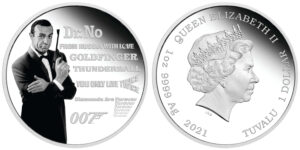 Design
The coin's design portrays a black and white image of the much-loved actor in a classic Bond pose. Also included is the franchise's iconic 007-gun logo and logos of the star's smash hit 007 movies released between 1962 and 1971 – Dr. No, From Russia with Love, Goldfinger, Thunderball, You Only Live Twice and Diamonds are Forever.
The obverse of the coin bears the Ian-Rank Broadley effigy of Her Majesty Queen Elizabeth II, as well as the coin's weight, purity, monetary denomination and 2021-year date.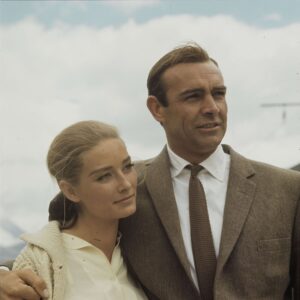 Presentation
Each coin is presented in a 007 branded case within a themed shipper and accompanied by a numbered Certificate of Authenticity.
For more coins from the Perth Mint, go to our website Cosmos of Collectibles.
For more information about this coin go to the Perth Mint website.
Last year the Perth Mint and the Royal Mint published more coins with James Bond motives.
Don't miss Simon Bytheway's analysis of Goldfinger's gold stratagem from an expert's point of view.
What are your favourite scenes with Sean Connery as 007? Here a short choice of his 4 top moments:
But Sean Connery's James Bond was particularly popular for his humour. Watch 50 James Bond quotes from Connery movies.