[bsa_pro_ad_space id=4]
Daniel Frank Sedwick has been sworn in as president of the International Association of Professional Numismatists (IAPN). His new term began during the annual IAPN congress held May 13-15 in Carefree, Arizona. Sedwick's predecessor as president was Arne Kirsch who has been nominated honorary president of IAPN after 23 years of active service for the organization.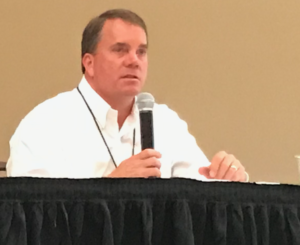 Sedwick is the owner and founder of Daniel Frank Sedwick, LLC. He has worked as a professional numismatist since 1989 and has been hosting coin auctions since 2007.
He was elected without opposition to a two-year term. Prior to that, Sedwick served two years in the organization's executive committee. He also chairs the IAPN's committee on international trade.
"The IAPN embodies the highest standards and ethics among international coin dealers," said Sedwick. "It is an honor to lead such a venerable organization in the fight for free trade in numismatics."
The IAPN was founded in 1951 in Geneva, Switzerland. Today, more than 90 numismatic firms are in membership, located all over the world. Every member must agree to a code of ethics the organization developed to provide for the protection and preservation of numismatic heritage. The association pursues projects dedicated to the advancement of numismatics such as anti-counterfeiting, government relations, international numismatic trade, and promoting numismatic research.
For more information on the organization go to the IAPN website.
There you can find also a full list of the president and all members of the committee.