[bsa_pro_ad_space id=4]
On the last weekend of October, the time had come once again: Coin enthusiasts from all over Switzerland gathered at the Swissôtel in Zurich-Oerlikon for the International Coin Fair of the Numismatic Society of Zurich. Of course, both the public and the exhibitors did not come only from Switzerland: We were surprised to meet Mr. Keh, a well-known coin dealer from Singapore, at the fair!
Money Fever
The fair's semi-official name, "money fever", was also this year's programme. The dealers were happy about the large crowd of visitors, the collectors about the extensive and varied offer. Some of them certainly made some great deals that day and that's how it's supposed to be.
Swissmint presented its current repertoire including the third collector coin from its Swiss Alpine passes series: Furka Pass (we introduced the coin). The coin's well-known designer, Vito Noto, was available for questions and a signature session on Saturday. Another highlight was the exhibition about the first Olympic Winter Games after World War II in St. Moritz in 1948, which had been put together by Reto Schrag with much expertise.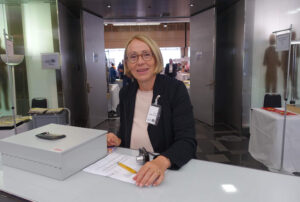 A Fair with Flair
The atmosphere was almost homely. The fair is of a pleasant size and, in addition to the hustle and bustle, there are also calm moments, which provide you with the time necessary for talking to colleagues and like-minded coin lovers. Therefore, the Zurich coin fair is always a good opportunity for visitors to benefit from the accumulated expertise.
We, too, are always excited about the opportunity to talk to long-standing friends and we are already looking forward to next year's fair which will take place on 24 and 25 October.
You can find information about this year's fair and the participants on the organiser's website, the Numismatic Society of Zurich.
We also published a German article about the 47th International Coin Fair in Basel.