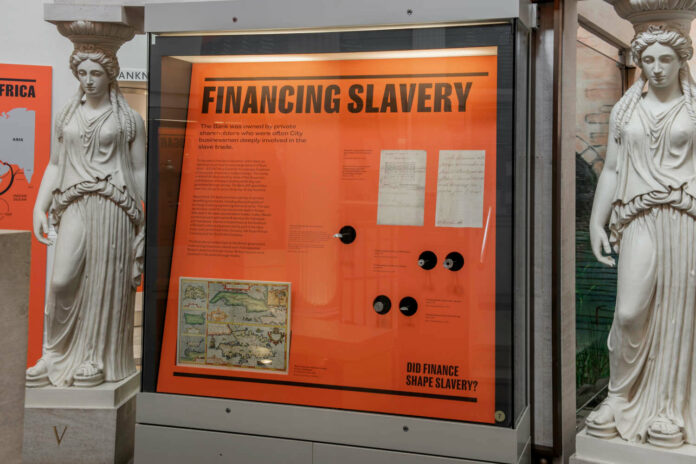 [bsa_pro_ad_space id=4]
The Bank of England Museum has been closed since March 2020 due to the Covid pandemic. Visitors will have the chance to explore the refreshed Modern Economy gallery which looks at, among other things, the impact of the pandemic on the UK economy, and a display focusing on financial literacy.
Curator Jennifer Adam said: "I am delighted that we can welcome visitors back to the Museum after a long closure due to the Covid pandemic. We have used the period of closure to make a number of important updates to the Museum to ensure that it better reflects the work of the modern Bank of England, as well as recent events such as the economic impact of the pandemic."
The temporary exhibition, Slavery & the Bank, which runs for at least one year, draws on new research undertaken by specialist staff from the Bank's Museum and Archive. It uses a series of objects from the Museum collection to explore the historic connections between the Bank of England, the business of the City of London and transatlantic slavery.
The Museum is open Monday to Friday 10am to 5pm and until 8pm on the third Thursday of every month. Admission is free. Its program of events will include both on-site and hybrid events. Highlights from the Museum and its exhibitions can be viewed online at Google Arts and Culture, and via the Smartify app.
For further information about the museum, visit the Bank of England website.
Read this article about what impact has our monetary system on all of us.
To learn more on the subject, don't miss our article "A Lesson in Economic History: The Transatlantic Slave Trade".