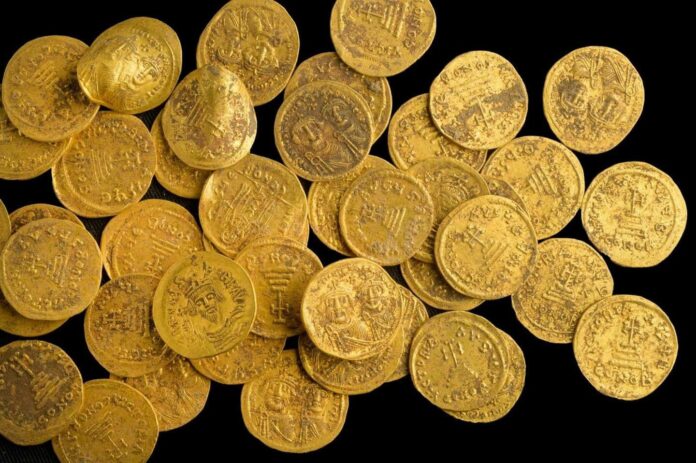 [bsa_pro_ad_space id=4]
The Israel Antiquities Authority (IAA) discovered a hoard of 44 Byzantine gold coins during an excavation at Banias. The find is revealing for several reasons.
Banias at Mount Hermon, was an important place in ancient times. The Greek name Paneas refers to a sanctuary of Pan. Herod the Great and his son Philip II completely rebuilt the city and renamed it Caesarea Philippi. Today, the site is located in the middle of the Hermon Stream Nature Reserve.
In the 7th century, the area around Banias was part of the Byzantine Empire. The hoard probably dates back to the dramatic moment when Muslim troops conquered the territory during the Islamic expansion. Under the first caliphs Abu Bakr and Umar, the Islamic Empire became a world power. In 629, Islamic Arab troops invaded Palestine but were fought off. However, they only were expeditionary troops. Heraclius completely misread the situation and underestimated the danger. The actual invasion began at the end of 633, and within a few years the Levant was under Arab control. At that time, probably shortly before 635, a citizen of Banias hid his gold coins – and never returned to retrieve them. At least that's what the observation of the hoard suggests.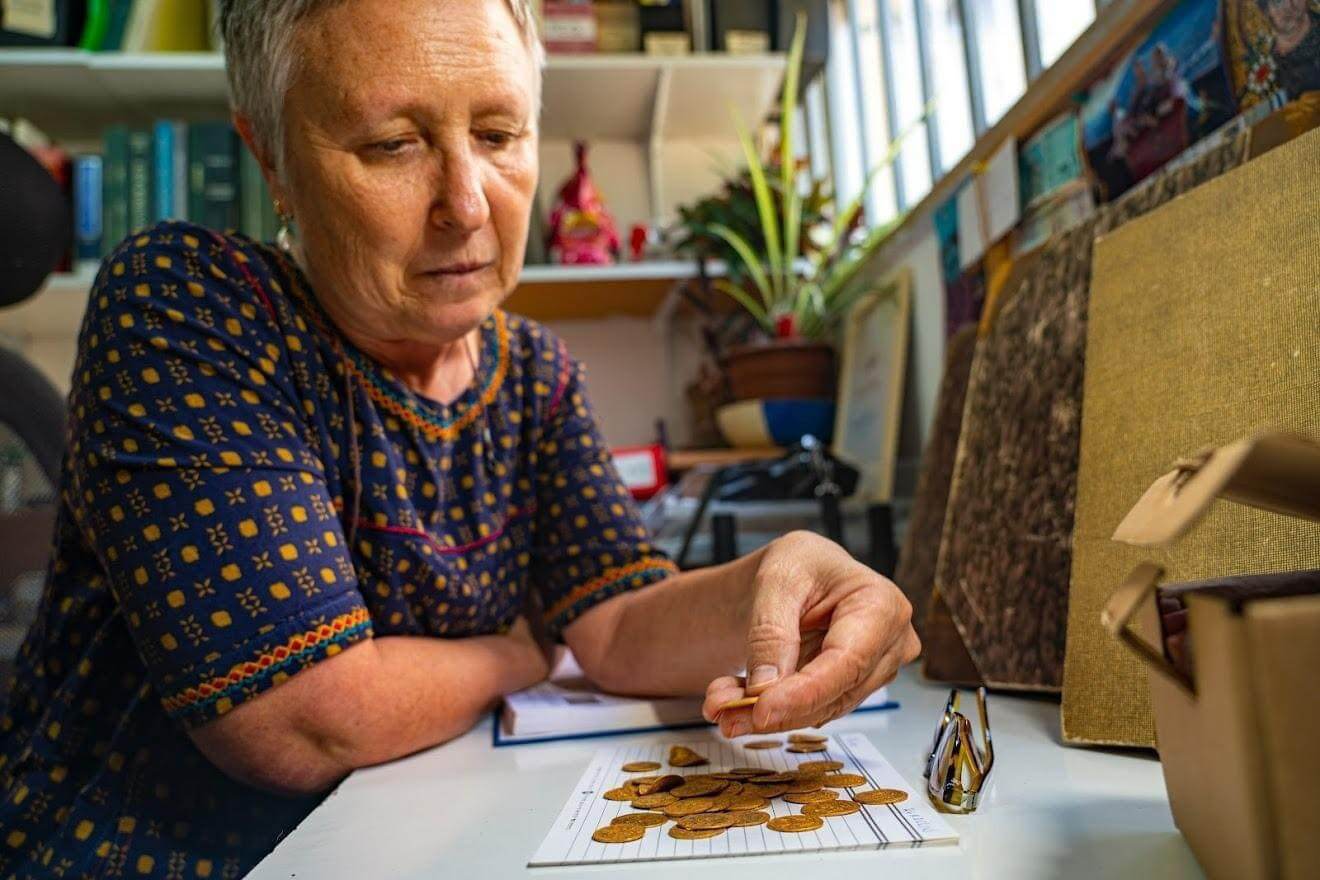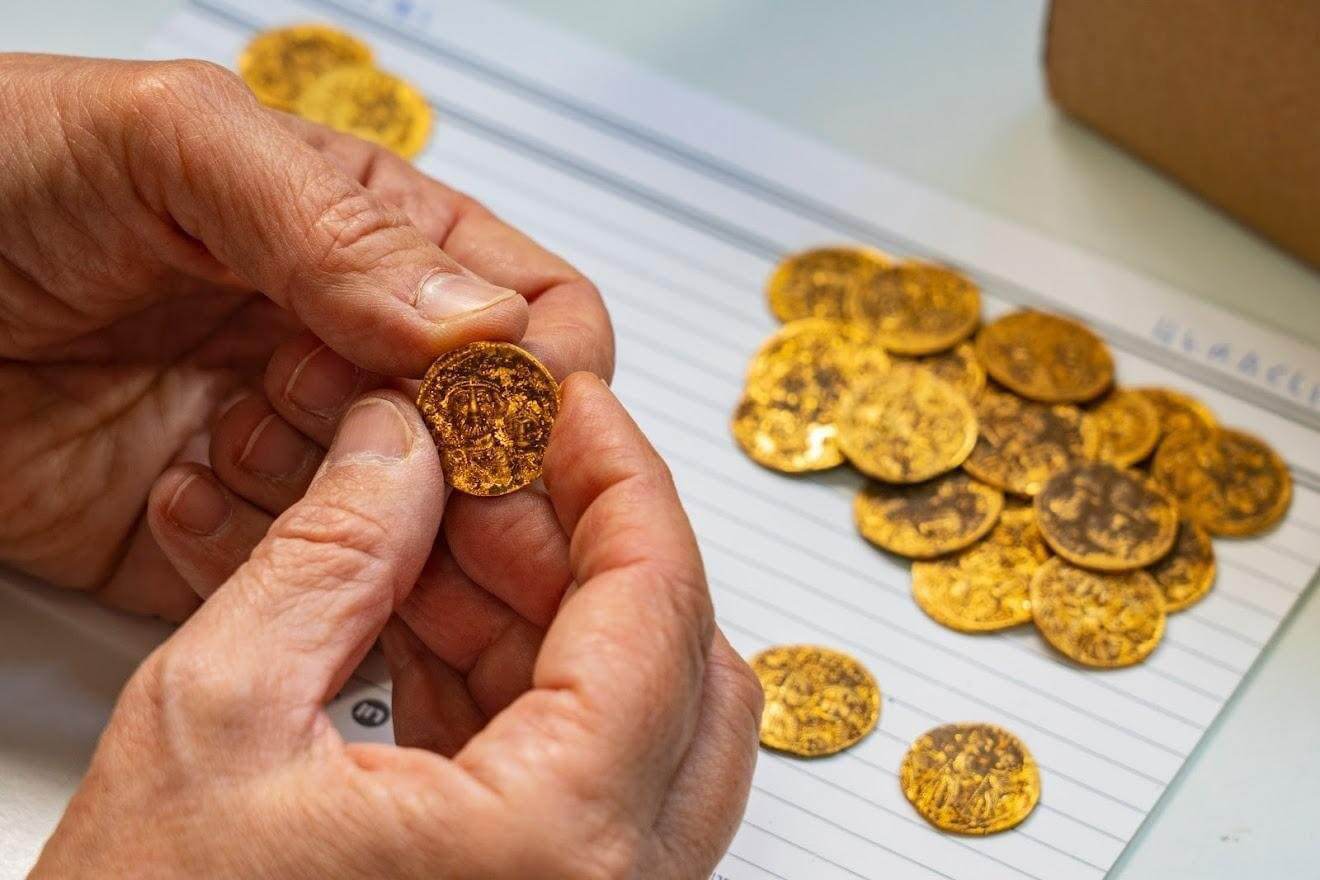 Gabriela Bijovksy, a numismatist with the IAA, was able to assign some coins to the Emperors Phocas (AD 602–610) and Heraclius (AD 610–641). She points out that the early coins of Heraclius only show his own portraits while later coins also feature his son. "One can actually follow his son growing up – from childhood until his image appears in the same size as his father's, who is depicted with a long beard", Bijovsky states.
According to what is known so far, none of the coins dates from the period after 635, when Banias was conquered by the Arabs. According to Eli Escusido, Director of the Israel Antiquities Authority, "The coin hoard is an extremely significant archaeological find as it dates to an important transitional period in the history of the city of Banias and the entire region of the Levant."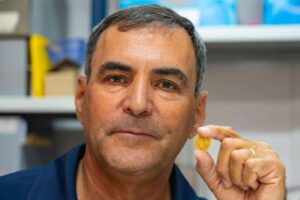 Senior archaeologist Yoav Lerer commented on the find: "One of the most impressive things about finding gold is the quality of the coins. The gold is not damaged by any chemical processes in the soil. They look as if they'd come directly from the mint, perhaps that of Constantinople."
Right now, the coins are treated for conservation purposes, then they will be examined and identified. Eli Escusido stated that the IAA will work together with the National Parks Authority to exhibit the treasure to the public as soon as possible.
In this video of the IAA you can find the statement of the IAA and impressions of the excavation: