[bsa_pro_ad_space id=4]
High-Quality Selection of Ancient Coins at CNG's Feature Auction
Classical Numismatic Group, LLC presents CNG Feature Auction 117, a Live Online Sale closing Wednesday & Thursday, 19th-20th May 2021, from their Lancaster, Pennsylvania office. This sale offers 1,158 lots with a presale estimate of $2.15 million.
The annual spring sale features Greek, Celtic, Oriental Greek, Central Asian, Roman Provincial, Roman Republican and Imperatorial, and Roman Imperial coinage. Additionally, there are featured selections of Byzantine, Early Medieval and Islamic, Early Dated Coinage, World coinage and medals, United States coinage and medals, British coinage and medals, antiquities, and reference books.
CNG 117 is highlighted by a number of collections and individual rarities, which make up the majority of coins on offer:
Selections of Ancient Coins from the William H. Birkinshaw Collection
Ancient, Medieval, World, and British Coins from the Lampasas Collection
Unique Joint Reign Gold Stater of Seleukos I and Antiochos I from Aï Khanoum
Further Offerings of Seleukid Coinage from the MNL Collection
Exceptional Kushan coinage from the Archytas Collection
Finest Known "Zodiac Wheel" Æ Drachm from Alexandria
Military Diploma from the reign of Vespasian
Byzantine Coins from the MacKay and Venetoi Collections
Choice Solidus of Michael I Rhangabe with Theophylactus
The W.R.K. Great Lakes Collection of Early Dated Coins
S. Coins and Medals from the Dr. Jay M. Galst Collection
An American Collection of Hiberno-Norse Pennies
An Important Silver Cliché Medallion by Thomas Rawlins
The Connoisseur Collection: Antiquities, Art, and Reference Books
Catalogs for CNG 117 have been mailed to the active mailing list and bidding is open on the site. Some of the individual highlights from CNG 117 are: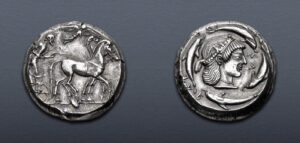 Lot 49: Sicily, Syracuse. Hieron I (478-466 BC). Tetradrachm, c. 478-475 BC. Attractive light iridescent tone, a couple of minor die breaks. Extremely fine. Fine style. – From the Apollo to Apollo Collection. Ex Lanz 34 (25 November 1985), lot 87. Estimate: $20,000.
Lot 51: Sicily, Syracuse. Second Democracy (466-405 BC). Tetradrachm, c. 415-409 BC. Obverse die signed by Eumenos, reverse die signed by Eukleidas. Attractive even gray tone with light golden hues around the devices, a little die rust, minor lamination. Near extremely fine. Estimate: $20,000.
The magnificent artistic flowering in Sicily in the 5th century BC has its origins in times of great strife. By the middle of the century, the situation began to resemble that of Renaissance Italy, where local princes engaged in continual warfare among themselves while employing the finest artists and craftsmen of their time. The result was the patronizing of some of the most talented coin engravers in history. In Syracuse, by the late 5th century BC these engravers were proudly signing their work, preserving the names of Kimon, Euainetos, Eumenos, Sosion, Herakleidas, Eukleidas and others for posterity. Their handiwork included several collaborative efforts, including coins with obverse and reverse dies signed by different artists, as seen here. Indeed, Eukleidas was so proud of his effort, he carefully placed his signature on a small raised two-paneled plaque below his serene head of Arethousa.
Lot 263: Seleukid Empire. Seleukos I Nikator & Antiochos I Soter. Joint Reign, 294-281 BC. AV Stater. In the types of Alexander III of Macedon. Indian standard. Aï Khanoum mint. Struck circa 284-280 BC. Unpublished, but cf. SC 280.3a for a similar silver drachm also struck on the Indian standard. Lightly toned, a few small scrapes and faint doubling on obverse, minor flan flaw on reverse. Extremely fine. Unique. Estimate: $30,000.
In 294 BC, Seleukos I made his son, Antiochos I, co-ruler. At the time, his domains stretched from Asia Minor to India, and Seleukos had spent most of the preceding decade in the west, at first fighting against Antigonos I Monophthalmos and later consolidating his gains by founding a number of cities throughout the Levant. This concentration on the west resulted in a degradation of Seleukid authority in the east, which culminated in a nationalist revolt in Persis in 295 BC, which became the first province to secede from the empire. It was likely this event that led Seleukos to elevate his son, whose new remit was to govern the eastern territories as his father's viceroy. Over the next fifteen years, Antiochos reestablished Seleukid authority in Persis, and extended to the Upper Satrapies the policy of consolidation that his father implemented in the west.
During the coregency, many of the mints of the east began to strike coins in the name of Antiochos for at least some issues, while Seleukos's name was retained on others. However, at Aï Khanoum there is a multi-denominational series of silver coins struck on the lighter Indian standard that exceptionally depict the names of both kings (SC 279–282). The present stater, also struck on the Indian standard, is the first, and only known, gold stater for this series, and from the mint of Aï Khanoum during the reign of Seleukos I. This Indian weight standard series is still shrouded in mystery. Its specific purpose has been long debated, but likely has to do with the intended area of circulation and recipient of this coinage; it was probably intended for use in trade that was flowing toward India. However, one question that has not been addressed well is: Why was this the only instance of a coinage with the names of both kings?  Certainly, Seleukos's name would be instantly recognizable to an Indian recipient, but his name was already on the issues of Aï Khanoum; it is Antiochos's that was added. Perhaps it was necessary from a diplomatic perspective for promoting Antiochos's position, given that this was apparently a coinage specifically intended for trade outside the Empire? In any case, this is the only instance during Antiochos's viceroyalty where this occurred, and it also is an irrefutable statement confirming the relationship of the two kings, not as senior and junior partners, but as co-rulers.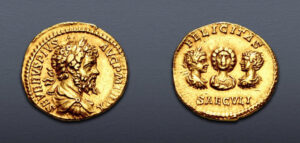 Lot 573: Septimius Severus, with Julia Domna, Caracalla, and Geta. AD 193-211. AV Aureus (19.5mm, 7.19 g, 6h). Rome mint. Struck AD 202. Lightly toned, underlying luster, a few light marks and scratches, typical weakness to Domna's nose. Near EF. Rare and popular type. Ex Provence Collection. Estimate: $30,000.
The reign of Septimius Severus was unique for the production of a remarkable series of coins depicting various members of the Imperial family in a variety of combinations, many of great beauty and exceptional iconographic interest. Among the rarest of this series is this beautiful aureus, which combines a forceful obverse portrait of Severus with a facing bust of his wife Julia Domna, between confronting busts of their two sons Caracalla and Geta. The legend FELICTAS SAECVLI, "happy age," completes the propaganda message of a secure new dynasty. In reality, the dysfunctional family dynamic led to a very brief run for the Severan clan.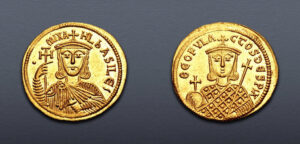 Lot 703–Michael I Rhangabe, with Theophylactus. 811-813. AV Solidus (21mm, 4.40 g, 6h). Constantinople mint. Choice EF. Struck on an oversized flan, beautifully struck. Rare. Estimate: $20,000.
A high court official, Michael Rhangabe seized power when Nicephorus I was killed in battle. Michael raised his eldest son Theophylactus as co-emperor and reversed the iconoclast policies of his predecessor. In 812, he recognized Charlemagne as emperor of the West in return for Venice returning to Byzantine control; the Venetians, however, ignored the edict. Early in 813, Michael mounted a campaign against the Bulgarians, but they routed his army. In the aftermath, Michael abdicated and named the general Leo V as his successor. Michael took monastic vows and died peaceably as a monk 30 years later. His coinage in all metals is very rare.
Printed catalogs for CNG 117 are now available. To order the catalog, please call CNG's U.S. office at (717) 390-9194. Catalogs have been mailed to customers on CNG's active mailing list. Prospective bidders may also view the virtual catalogs. The sale can be viewed online at CNG, Sixbid, and Numisbids.
In addition to CNG Feature Auction 117, CNG will also feature over 1000 lots from many of the same collections listed above in their Electronic Auction 492, closing one week later on Wednesday, 26 May 2021, from 10AM ET (U.S.). Bidding for CNG Electronic Auction 492 will begin on 5 May 2021.
CNG is currently accepting consignments for future auctions sales. Please contact the firm for further details and consignment deadlines.